Most Popular PETA India Facebook Posts of 2015
People may have different ideas about what will make for a viral Facebook post, but for us, it's one that really grabs people's attention and starts countless conversations about animal rights issues – and probably saves some lives, too.
Check out the most popular PETA India Facebook posts of 2015:
This video exposed the horrifically cruel treatment of alligators who are KICKED and KILLED for Hermès products.
Number of people reached by this Facebook post: 12,800,846
After watching this video, people remarked that fashion is not worth this.


2. This video exposed people to the heartbreaking PETA Asia investigation of the dog leather industry in China.
Despite (or maybe because of) its graphic content, this post reached more than 10 million people. Many people could not finish the video.

Some people also expressed their shock and urged others not to buy leather.


3. This video reminded everyone that all animals matter.
After watching it, many people said that they will adopt a plant-based diet.

Many people also expressed that they are already proud vegetarians.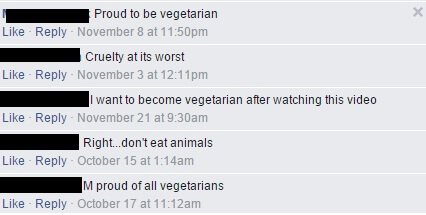 4. This post, in response to the public outcry over China's dog meat Yulin festival, reminded people that chickens do not want to be eaten, either.
This post reached over 4 million people, and many of them remarked that it is wrong to eat any animals.



5. This post featured gruesome footage of Indian dairy farms on #InternationalMeatlessDay.
People wanted to know how they could help end such cruelty.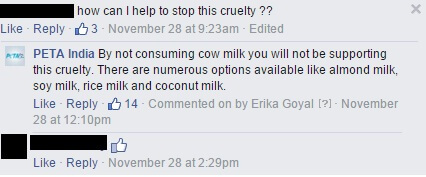 6. This video of a woman who was "experimented on" in Delhi aimed to help people try to relate to the fate of animals in laboratories. The post reached 2,719,744 people and 535,739 views.
Many important conversations were started because of it.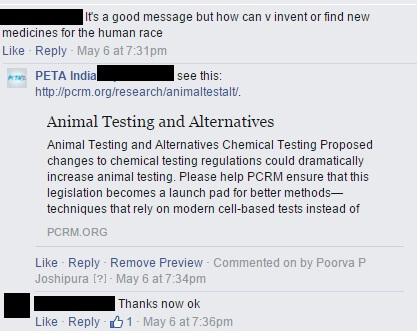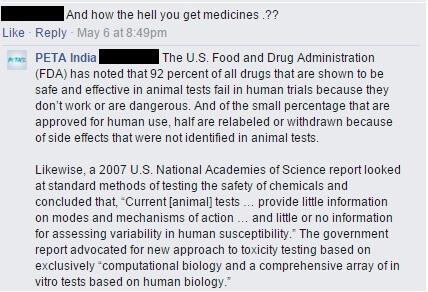 Some also expressed their desire to help bring about change.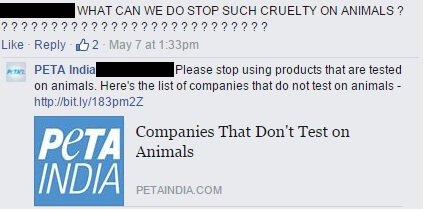 7. This post urged people not to throw colours on animals during Holi.
Many agreed, and more than 17,000 people shared the post on their Facebook pages.

Some also went a step further and shared photos with a similar message.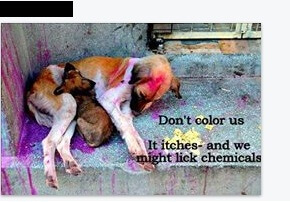 8. This video, which was shown to JD Institute of Fashion Technology India students, concerns what happens to animals used for fashion.
Many were thankful to be informed of the truth.

9. During World Vegan Month, we showed why people are going vegan.
This post definitely encouraged many people to go vegan, too.

10. We posted a heartbreaking 60-second video showing how animals are treated in Indian circuses.
Many joined the call to ban all animals from circuses.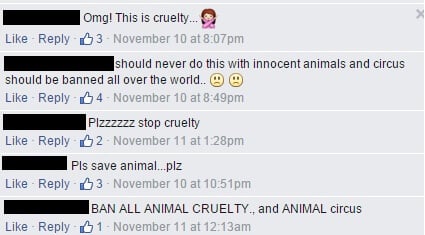 11. We took the opportunity to tell people that if they do not eat beef, they stop should stop wearing leather, too.
Many people encouraged others to ditch leather.



12. We posted a collage showing how cows are turned into leather.
In response, people said that they will stop buying leather.



13. We posted a thought-provoking video about leather, made by FAD International students for PETA.
People really loved the video and agreed that wearing animal skins is ugly.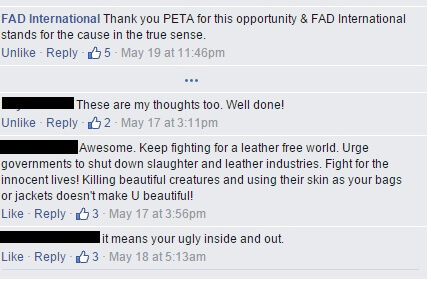 In the age of social media, the power to effect change is at our fingertips. Every PETA post that you share educates others, inspires them, raises awareness of important issues, changes minds and helps animals more than you ever imagined.