Mithibai College Students Become 'Elephants', 'Horses', and Other Animals to Call For Ban on Animals in Circuses
Dozens of Mithibai College students – some dressed as animals (such as elephants and horses) and others wearing animal masks – held banners reading, "Environment Ministry, Please Ban Animal Circuses," along with other placards on 19 December to urge the Ministry of Environment, Forest and Climate Change (MoEFCC) to pass draft rules proposing a ban on the use of animals in circuses. The legislation proposes adding the following rule to the Performing Animals (Registration) Rules, 2001, framed under The Prevention of Cruelty to Animals Act, 1960: a "prohibition on exhibiting and training of animals for specified performances. No animals shall be used for any performances or exhibition at any circus or mobile entertainment facility".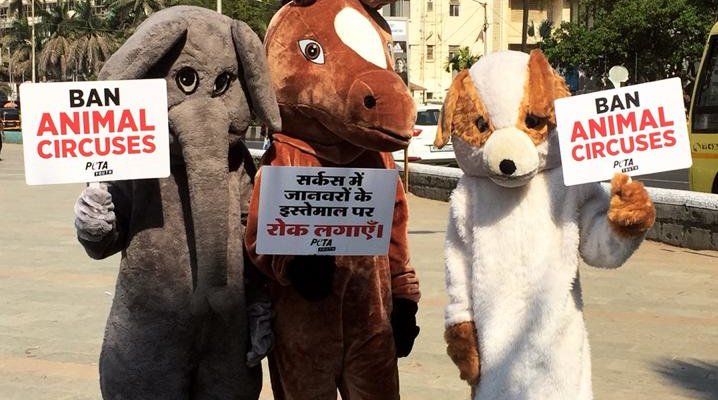 Since 2015, because of the efforts of animal rights groups, including PETA India, more than 100 animals – including 15 captive elephants and many horses, camels, dogs, and birds – have been rescued from circuses, rehabilitated with the help of the police and forest departments, and taken to sanctuaries. In their efforts to end the use of animals in circuses, PETA India and other animal-protection groups have petitioned the MoEFCC, worked with government regulatory bodies such as the Animal Welfare Board of India and the Central Zoo Authority, engaged in litigation, organised demonstrations and social media campaigns, enlisted help from celebrities, and held street-theatre performances.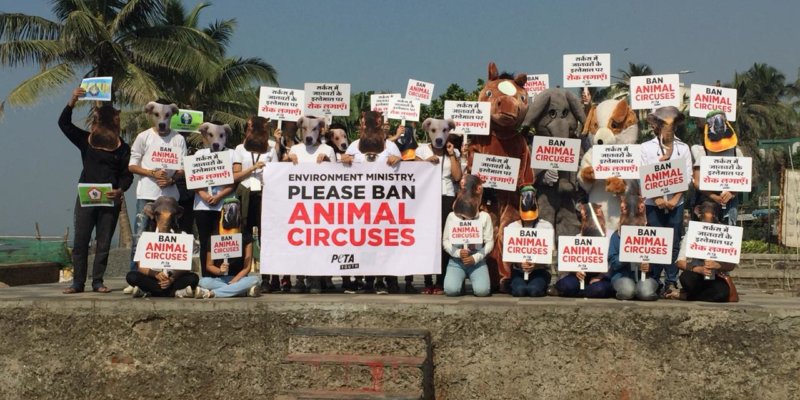 In 2013, a nine-month government-authorised inspection of 16 circuses across India – as well as other inspections by expert teams from 2013 to 2016 – revealed rampant and widespread abuse of elephants, horses, camels, dogs, birds, and other animals used in circuses. Handlers beat elephants with ankuses (weapons with a sharp metal hook on one end); drunken circus staff roughly handled animals; circuses kept elephants, dogs, cats, birds, and other animals continuously chained or caged; animals exhibited signs of severe psychological distress, including constant swaying and self-mutilation; and animals were deprived of veterinary care, adequate food, sufficient water, and safe and clean shelter.
Join us in calling for a ban on animal circus. Sign our petition today.