MANJ Musik Slams Circuses for Abusing Animals
Fresh off the success of the hit song "Whistle Baja" from the film Heropanti, husband-wife Bhangra masters MANJ Musik have teamed up with PETA to blow the whistle on circus cruelty to animals. Check out Manjeet Ral and Nindy Kaur's funky ad, shot by award-winning photographer Douglas Sonders.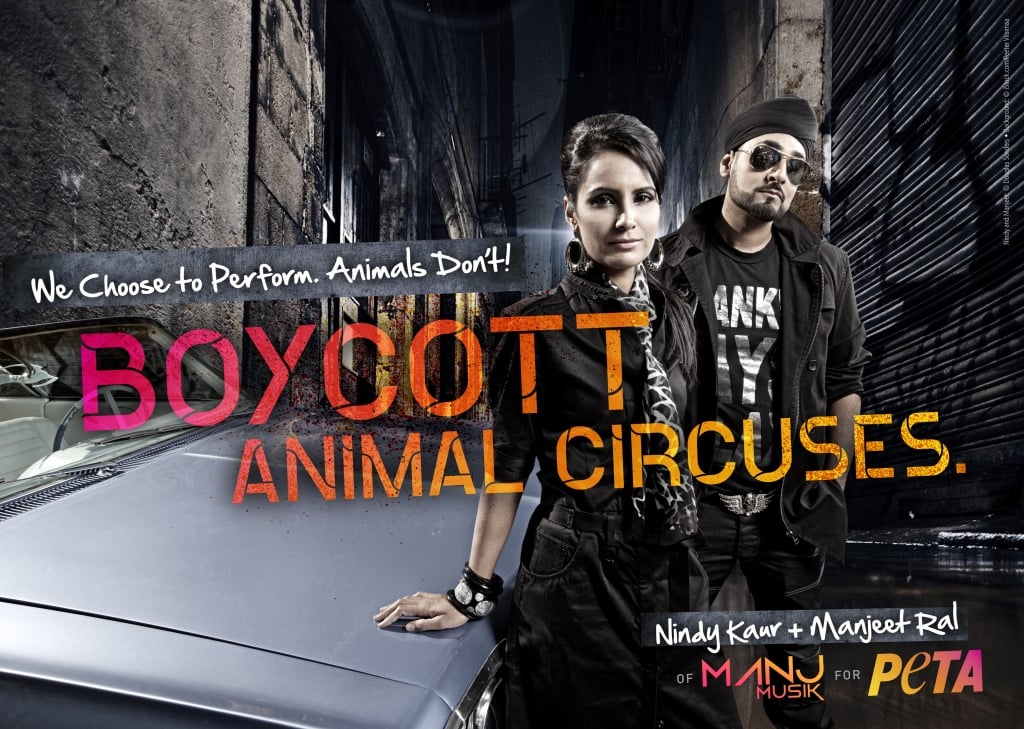 Manjeet and Nindy know just how exhausting performing can be. But unlike human performers, animals used in circuses do not choose to perform. There are no awards or accolades for these animal performers – just heavy chains, cramped cages and a lonely life on the road.
"We choose to perform, and the animals don't," the band says. "[A]nimals are getting tortured, they're not getting fed because they have to perform. … They are psychologically really, really badly treated."
An Animal Welfare Board of India (AWBI) authorised  nine-month investigation of Indian circuses by PETA with the help of Animal Rahat revealed that cruel practices were rampant, including beatings with metal-spiked weapons, constant caging and chaining, inadequate food and water and often no veterinary care. The Central Zoo Authority the AWBI have issued "show cause" notices to circus owners as a result of these findings.
Manjeet adds, "[T]here isn't a ban in India, but I think there should be a ban on wild animals used in circuses. …It's being banned in so many other countries, and I think it's about time for it to be banned here also".
Join MANJ Musik in speaking out against circus cruelty to animals. Please sign our petition asking Indian government officials to ban the use of animals in circuses, as Bolivia, Bosnia and Herzegovina, Columbia, Greece and Cyprus have already done.