Major Circus to Phase Out Elephant Acts
Ringling Bros. and Barnum & Bailey Circus, a major American circus, has just announced that in response to growing public concern over "how the animals are treated", it will end elephant performances by 2018.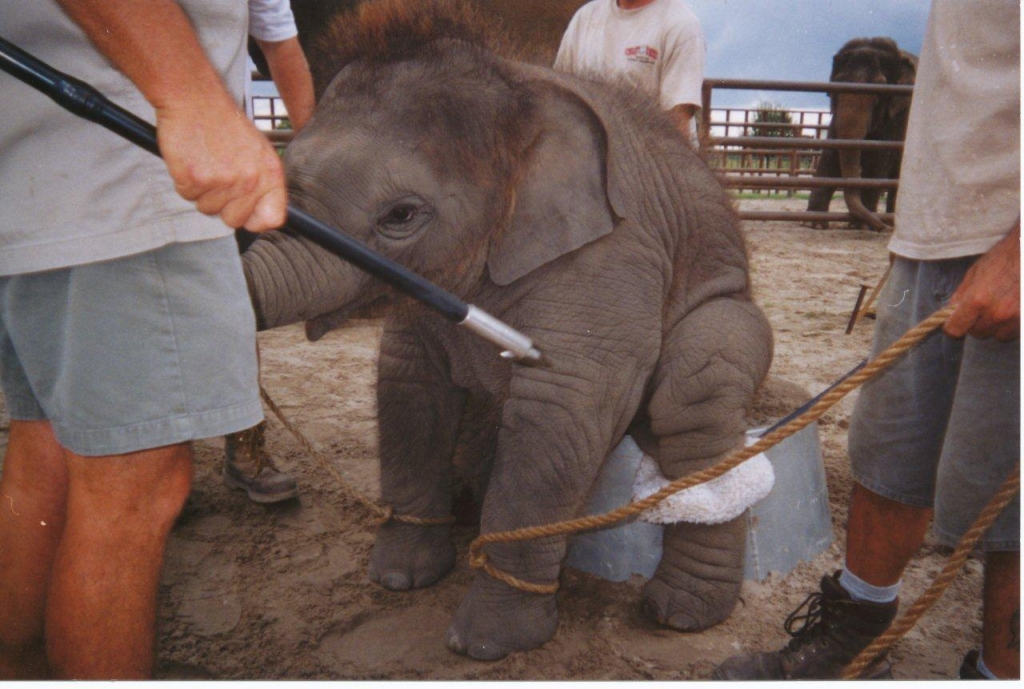 Photo: Sam Haddock
"There's been somewhat of a mood shift among our consumers", said Alana Feld, the company's executive vice president. "A lot of people aren't comfortable with us touring with our elephants."
For 35 years, PETA US has protested Ringling Bros.' cruelty to elephants. PETA US also caught Ringling's abuse on video and released to the world a former Ringling trainer's photos of the circus's violent baby-elephant training. PETA US knows that extreme abuse of these majestic animals occurs every single day, so if Ringling is really telling the truth about ending its road show, then it's a time to rejoice that the first important step has been taken – but there are many more to take.
Watch a video statement from PETA founder Ingrid Newkirk here.
Many of the elephants Ringling uses are painfully arthritic and have tuberculosis, so performances need to stop immediately. Three years is too long for a mother elephant separated from her calf, too long for a baby elephant beaten with the sharp weapons called "bullhooks" (or ankushes as they are called in India) that Ringling handlers use routinely and too long for an animal who would roam up to 30 miles a day in the wild to be kept in shackles.
If the decision is serious, then the circus needs to act now. Then it would need to be seen what happens to the elephants afterwards, because Ringling's Florida compound is no sanctuary, and Ringling is still in the business of profiting at the expense of animals.
What You Can Do
Use this PETA US action alert to urge Ringling Bros. to stop cruel elephant performances now – not in three years!
In India, the government has already banned the use of bears, monkeys, tigers, panthers and lions in performances. PETA India is now calling on the Indian government to follow the lead of Bolivia, Bosnia and Herzegovina, Cyprus and Greece by banning the use of elephants and all other animals in circuses.
Take action here to urge the Indian government to stop the use of elephants and other animals in Indian circuses.