Kajal Aggarwal 'Bleeds' for Animals in Anti-Circus Ad
It's no secret that Kajal Aggarwal is one of the most famous performers in South India. Her ability to relate to a character and channel that persona through acting is what makes her such a popular film star. Now this sensitive siren is starring in a bold new ad for PETA in which she asks fans to imagine what it's like being an elephant barbarically used and abused in India's circuses. The ad was shot by celebrity photographer Gaurav Sawn. Kajal's look was made complete by hairstylist Amit Thakur  and makeup artist Raju Jadhav.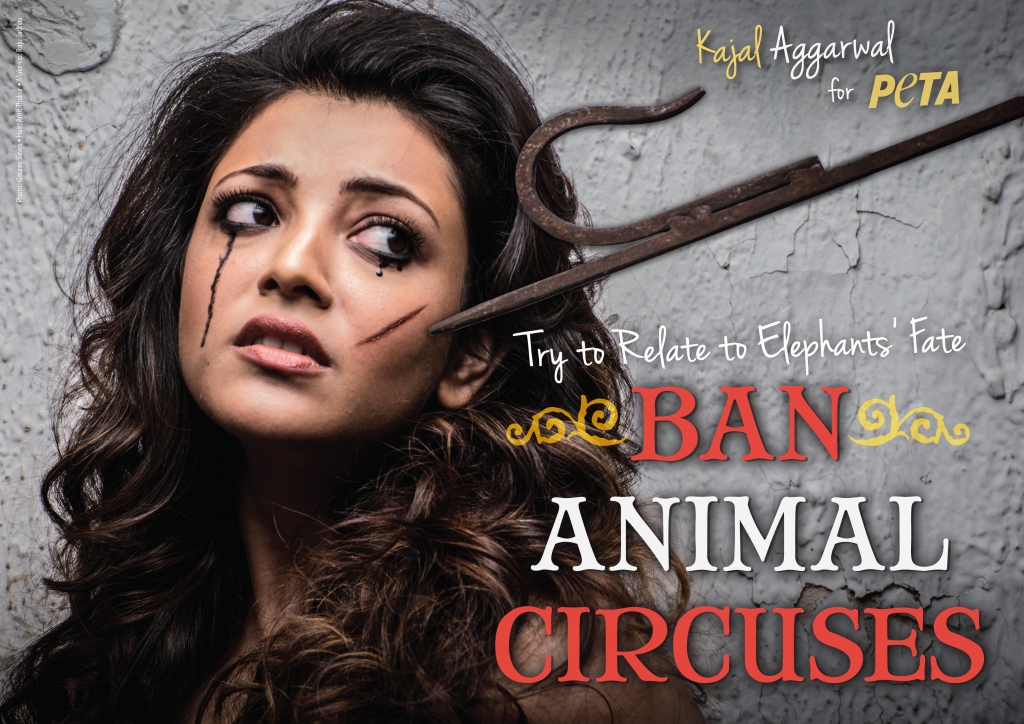 "As an actor, I perform out of choice. But animals are not given a choice in circuses", says the two-time winning CineMAA Awards Best Actress. "They are not given proper veterinary care, they are not given food. They are tortured with all sorts of instruments and beaten and made to perform. … [I]t's a very cruel way to treat animals, and that's why I think that animals in circuses should be completely banned."
https://www.youtube.com/watch?v=Y58lk75Da_k?
A nine-month investigation of Indian circuses by PETA and Animal Rahat revealed that cruel practices are rampant, including beatings with metal-spiked weapons and constant caging and chaining. Animals in the circuses were given inadequate food and water and veterinary care, and elephants frequently exhibited signs of severe psychological stress – including swaying and head-bobbing – caused by their cramped living conditions.
Instead of watching depressed animals forced to perform silly tricks, "enjoy other forms of circus activities like jugglers, tightrope walkers or clowns and all sorts of things, not necessarily animals", Kajal suggests for guilt-free fun. You'll be dazzled by what willing human performers can do.
Follow in Kajal's footsteps, and be a hero for animals: sign our petition to ban the use of animals in circuses in India today.