Badminton Star Jwala Gutta Says NO to Cockfighting
Badminton champion Jwala Gutta stars in a brand-new campaign for PETA. Posing with a racquet, she appears next to the silhouette of a rooster and the words "Badminton Is a Sport – Cockfighting Is Not". The stunning print visual came to life with the help of photographer Sarath Shetty and hair and make-up artist Sohini Ghanate.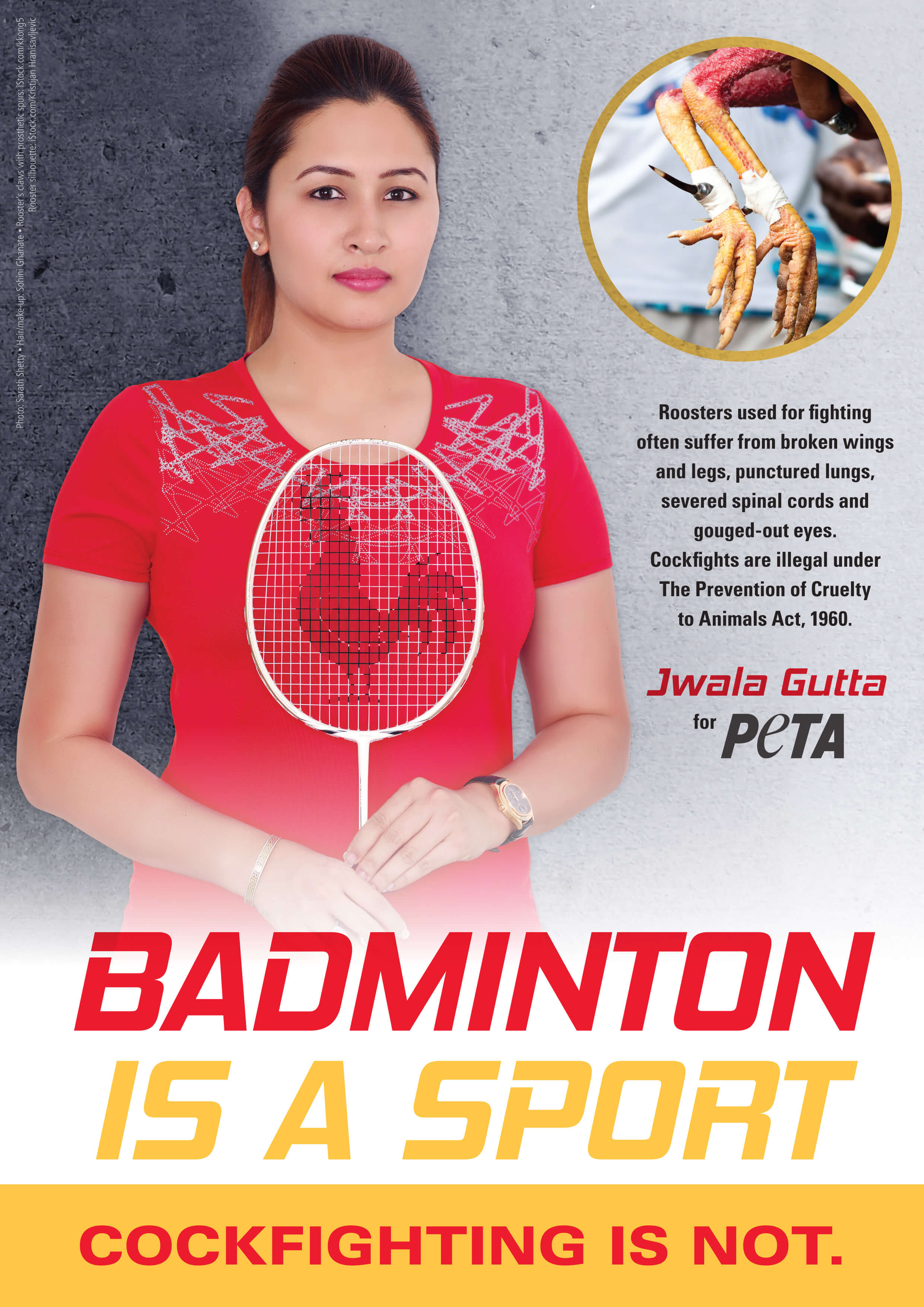 "I hope that people take this campaign very seriously", says Gutta. "If you want to play a sport, play sports like badminton, cricket, tennis, or any other sport, but not cockfighting."
Roosters raised for fighting are often confined to cramped cages and tormented to make them aggressive. Razor-sharp spurs are attached to the birds' feet to make fights more "exciting", ie, bloody. The birds often have their eyes gouged out and sustain broken wings and legs, punctured lungs, and severed spinal cords. Those who survive are forced to fight again. The Prevention of Cruelty to Animals Act, 1960, prohibits forcing animals to fight.
In 2014, the Honourable Supreme Court of India ruled in favour of PETA India and confirmed that forcing animals to fight is illegal nationwide – but cockfights are still organised in some parts of Andhra Pradesh, Karnataka, Kerala, Maharashtra, Punjab, Tamil Nadu, and elsewhere.
Gutta is India's top-level doubles specialist.
You can help her end the violent treatment of roosters by immediately notifying the police and local animal-protection organisations if you learn of a cockfight. Also write to us at [email protected].