Jiah Khan Says, 'Cut Glass-Coated Manja, Not Wings'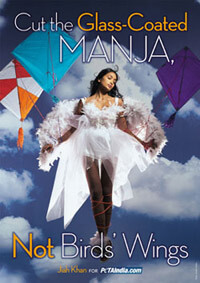 Jiah Khan, who left everyone spellbound with her acting in Nishabd, came forward to help her winged friends by posing in a stunning PETA ad. Shot by ace photographer Farrokh Chothia, the ad shows Jiah Khan entangled in manja with wounds all over her body, and the caption reads, "Cut Glass-Coated Manja, Not Wings".
Why can't this Bollywood babe be "nishabd" this time? The manja used in kite-flying competitions is often gummed and coated with powdered and finely crushed glass. While this makes the manja extremely effective at cutting an opponent's kite line, it also makes it deadly for thousands of pigeons, crows, owls and other birds who get slashed, wounded and killed when they become entangled in the strings. Animal organisations across the country try their best to save birds entangled in manja, but often the birds don't survive.
Ready to join your voice with Jiah's? Write to the Animal Welfare Board of India.