INIFD to Promote Ethical Fashion With PETA
Fashion is all about evolution and innovation. That's why a growing number of the world's top designers only work with sophisticated vegan materials instead of supporting the cruel leather, fur, wool and silk industries. So to promote elegant,ethical fashion, the International Institute of Fashion Design (INIFD) Siliguriis teaming up with PETA for an unforgettable "ExtraVEGANza" at their 18th Annual Graduation Fashion/Interior on 30 August.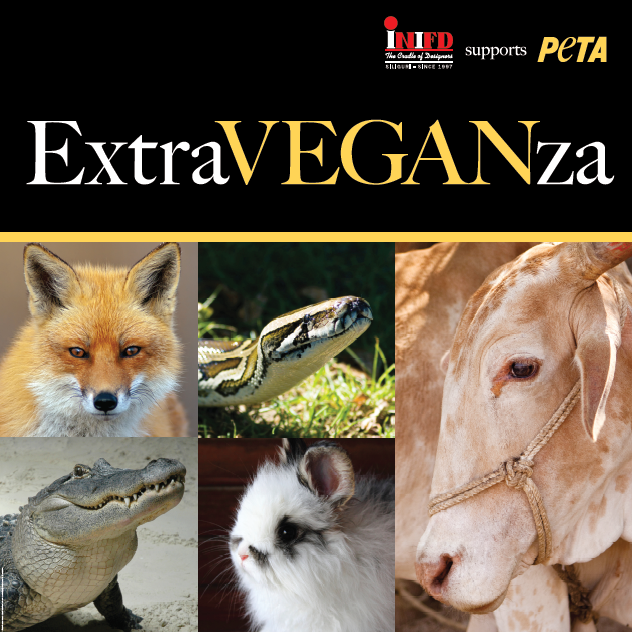 This all-vegan event will feature a PETA stall where guests can get the scoop on how to help animals who are abused for clothing with our "Fashion Forward" .We'll also have swatches of vegan leather and on display for style mavens to marvel at and other vegan products, proving that designers have all the technology and resources they need to create cutting-edge designs without electrocuting and skinning live animals.
PETA will also be giving out its "Fake for Animals' Sake" badges so compassionistas can flaunt their vegan vogue. Just look for the "ExtraVEGANza: INIFD Supports PETA" backdrop to find us!
We're also excited to announce that PETA's own Benazir Suraiya will be bringing her ethical expertise to INIFD's animal-friendly affair as an official judge of 15 fashion shows.We can't wait to see cruelty-free creations from the next generation of style leaders. See you on 30 August in Siliguri!
What You Can Do
Want to make a fashion statement that helps others? You can spare cows from being maimed and killed with dull knives, and dogs in China from being bludgeoned to death for their skins by pledging to never wear or buy leather.