Indian Ocean Says No to Animal Circuses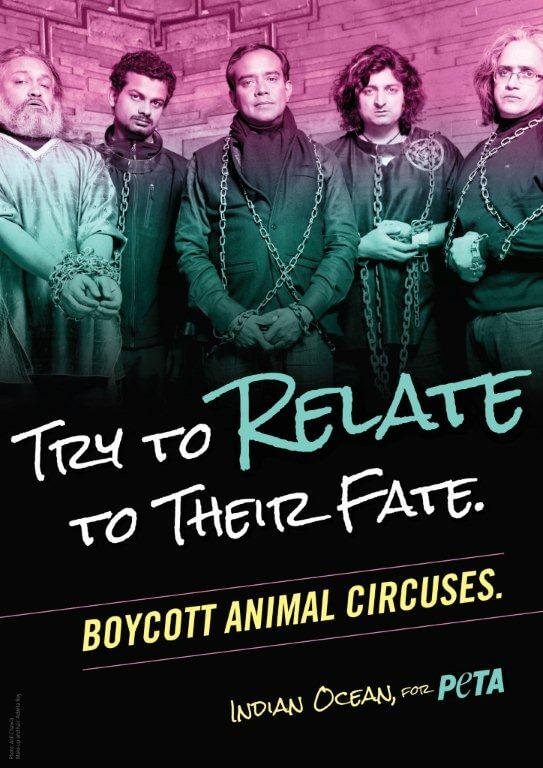 World Music Group Indian Ocean loves to put on a good show. But animals who are held captive and forced to perform in circuses would much rather be out of the spotlight. So Indian Ocean wants its fans to know that there is a sea of reasons not to attend animal circuses. In the group's ad for PETA India, Rahul Ram, Tuheen Chakravarty, Susmit Sen, Amit Kilam and Himanshu Joshi put themselves in the place of animals.
When elephants are not in the performance ring, they are almost constantly kept chained and shackled. Horses are tethered to short ropes, dogs spend their lives in filthy cages and birds have their wings clipped so that they cannot fly. Animals are often denied fresh water, sufficient food and veterinary care. Worse, the "training" of animals used by circuses usually consists of beating them with whips, sharp steel-tipped rods and other weapons in order to make them fearful and submissive so that they will perform confusing, unnatural tricks on demand.
For World Music Day, the members of Indian Ocean want to remind their fans that animals are not ours to use for entertainment and urge them to steer clear of cruel circuses. The band members say, "We are performers and enjoy entertaining our fans, but chaining and beating freedom-loving animals into performing is not entertainment. It's abuse. We're asking everyone to stay away from any circus that enslaves and harms animals."
Countless other compassionate people across the country have joined Indian Ocean in speaking out against circuses that abuse animals. Please add your voice by e-mailing the Ministry of Forests and Environment and asking it to ban all animal acts in circuses.