India, It's Your Turn to Kickstart Your Health!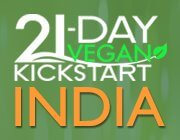 "When you have your health, you have everything. When you do not have your health, nothing else matters at all." – Augusten Burroughs
Did you know you it's possible to lose weight, boost your health and reduce the risk of deadly diseases just by changing your diet? Physicians Committee for Responsible Medicine (PCRM) is bringing you a program based on the ever-popular 21-Day Vegan Kickstart initiative that has helped more than 150,000 Americans lose weight and improve their health with a low-fat, plant-based, dairy-free diet.
Trust us: these 21 days will be fun-filled, nutritious and yummy! Kickstart India will send you 21 e-mail messages – one each day – that will provide you with an all-access pass to the following resources:
Three weeks of dairy-free recipes for traditional Indian favourites, like carrot halwa, tofu palak paneer and navratan kurma
Cooking demonstration videos by Dr. Nandita Shah, an Auroville-based physician who developed delicious and healthful recipes for the program
An online community forum to connect with others, get support and have your nutrition questions answered by PCRM nutrition experts
A list of celebrity coaches who will offer their favourite vegan recipes and tips to help you stay on track during the program. Actor Amala Akkineni, cricketer Murali Kartik, actor Veena Malik, international star Maggie Q, actor Rashaana Shah, musician Rahul Sharma, actor Jackie Shroff, actor and author Alicia Silverstone, actor Sonu Sood and member of Indian Parliament Dr Shashi Tharoor are all involved.
Go get started, India! Get yourself enrolled now! Also, spread the word around to family and friends.
Be healthy!