Ileana D'Cruz Gives Angora Fur the Cold Shoulder
Tollywood and Kollywood star Ileana D'Cruz made her Bollywood debut in Barfi!, mesmerizing fans and critics with her striking looks and youthful talent. Now in her new PETA ad – she is sharing the facts about the cruel angora fur industry. Ileana's backless look was styled by Tanya Mehta, with hair and makeup styling by Kritika Gill. Top photographer Colston Julian created Ileana's thought-provoking ad.
[peta-share-overlay]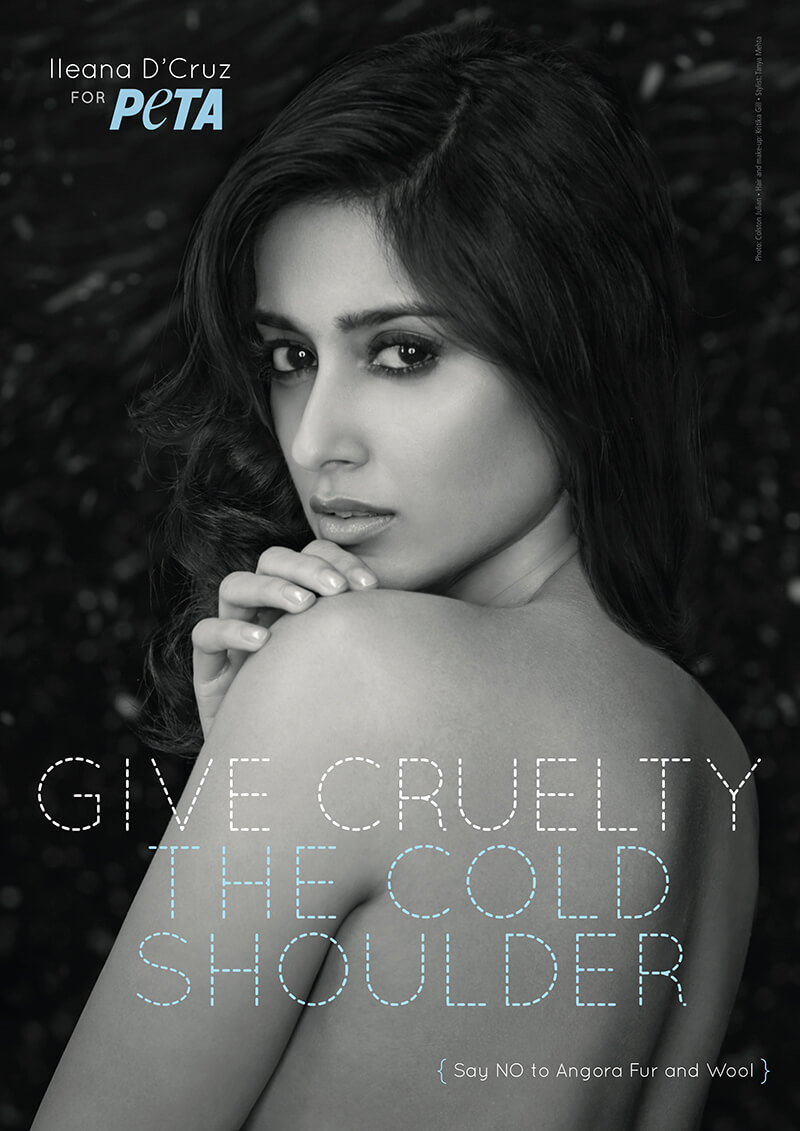 [/peta-share-overlay]
China – where there are no standards or penalties to regulate the treatment of the animals – exports 90 per cent of the world's angora fur. A PETA Asia investigation of rabbit farms in China documented rabbits who screamed in pain as workers ripped their hair out of their skin, something that occurs every three months. The rest of the time, the rabbits lie motionless from shock and fear in cramped, filthy cages that cause these highly social animals to go insane. One farmer told PETA Asia's investigator that 60 per cent of the rabbits die after only one to two years.
Rabbits whose hair is sheared or cut fare no better. "People will think that if the fur is cut or sheared off, they wouldn't go through as much trauma", says the film beauty. "But the problem is that they are actually stretched out on wooden board by their legs so the animal is actually tied down". When rabbits desperately try to get free, they are often cut or otherwise injured and can even suffer heart attacks.
The star of the upcoming film Happy Ending knows that the best "happily ever after" that you can give our rabbit friends is to refuse to buy products made from angora fur or wool. The actor explains that animals "are very much a part of our entire world and they deserve as much happiness in their lives as we do. Think about it – put yourself in their perspective. Think about how you would feel if you were treated that way. [Animals] deserve to live in their own skin, as we do. Say NO to angora fur".
Help Ileana give cruelty the cold shoulder. Pledge to read garment labels and never to buy or wear garments containing angora fur or wool.