FIR Registered Following PETA India Complaint Against Dairy Workers for Thrashing Mother Cow
After a video emerged of a man repeatedly thrashing a cow with a thick bamboo stick as her young calf stood helplessly next to her, PETA India team member Dr Kiran Ahuja sprang into action and registered a formal complaint at Khamtarai Police Station, based on which a first information report (FIR) was registered by the police under Section 511 read with 429 of the Indian Penal Code (IPC), 1860, and Section 11(1) of The Prevention of Cruelty to Animals (PCA) Act, 1960.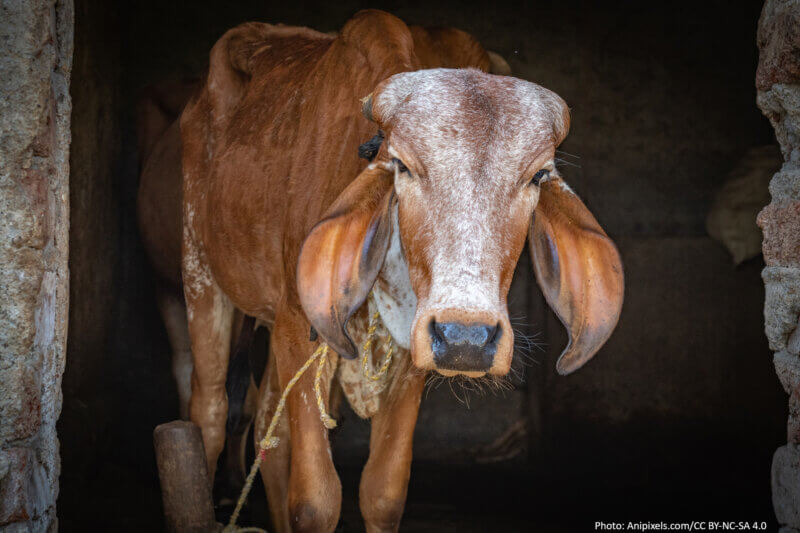 The bond between mother and child is a sacred one for all species. The cruel dairy industry tears frightened calves away from their distressed mothers just 12 to 24 hours after they are born so that humans can drink the milk meant for them. In nature, calves are nourished with their mother's milk for up to a year. 
 Cows develop a strong maternal bond within just five minutes of their calf's birth – but it can last forever, as the following story shows. Every day for four years, a cow in Uttara Kannada has waited for the very bus and driver who killed her baby in a traffic accident in order to block their way. The mother cow continues to carry out this act of love in memory of her departed calf, even after the driver changed the colour of the bus. She does not get in the way of any other vehicles. Now imagine how a mother cow on a dairy farm feels when she is artificially inseminated year after year and never gets to know her offspring. 
 Research shows that people who commit acts of cruelty to animals are often repeat offenders who move on to hurt other animals, including humans. In a study of domestic violence victims, 60% of women said their abusive partners had harmed or killed their dogs or other animals. While the IPC, 1860, carries stricter penalties, PETA India has long campaigned to strengthen the PCA Act, 1960, which contains archaic, inadequate penalties, such as a maximum fine of only Rs 50 for convicted first-time offenders.  
9 Things to Do if You Witness Cruelty to Animals