FIR Registered Against Three Men Who Chopped Off Cow's Leg After PETA India Intervened
Following efforts by PETA India and a complaint filed by local animal activist Shivanand Diwedi, Rewa police registered a first information report (FIR) against three men for smuggling cows and chopping off one cow's leg. The accused, who are residents of Baikunthpur, panicked and fled after dumping numerous cows from a lorry. One cow was still inside the lorry and tied with a rope by the right hind leg, and the accused released her by chopping off the leg and then pushed her off the vehicle in an attempt to escape. The villagers are helping the injured cow with veterinary treatment.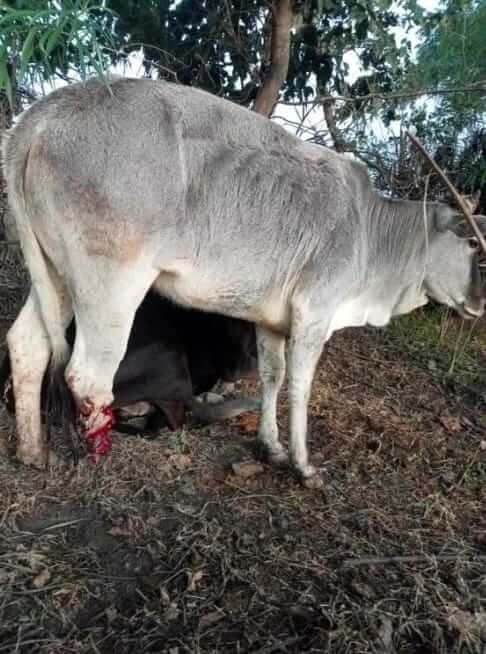 The FIR is registered under Sections 411, 414, and 429 of the Indian Penal Code, Section 11(1)(d) of The Prevention of Cruelty to Animals (PCA) Act, 1960, and Sections 4 and 9 of the Madhya Pradesh Govansh Vadh Pratishedh Adhiniyam, 2004.
Research shows that people who commit acts of cruelty to animals are often repeat offenders who move on to hurting other animals, including humans. For example, Ameerul Islam raped and killed dogs and goats before being sentenced to death for raping and murdering Kerala law student Jisha. In a study abroad, 71% of women in domestic violence shelters reported that their abuser had threatened, injured, or killed a dog or other companion animal.
PETA India has long campaigned to strengthen the PCA Act, which contains outdated, inadequate penalties, such as a maximum fine of only Rs 50 for convicted first-time offenders. In a proposal sent to the central government regarding an amendment to the PCA Act, PETA India recommended significantly increasing penalties for cruelty to animals.
Demand Stronger Penalties for Animal Abusers