Elephant Mariappan Reunited With His Mother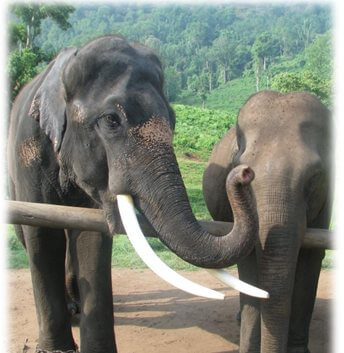 Do you all remember the elephant Mariappan and how he was kept chained for many long years in a temple until local activist Radha Swami, PETA and other caring people helped get him moved to a zoo? We now have an update on the situation that we would like to share with you: Mariappan has now been permanently moved back to his birthplace!
Mariappan was initially moved to Arignar Anna Zoological Park in Vandalur and is now at Anamalai Tiger Reserve, where he was born. After 17 years of separation, he was recently reunited with his mother and has made many new elephant friends.
Our director of veterinary affairs, Dr Manilal Valliyate, says, "Daily walking, mental stimulation and the company of other elephants are essential to an elephant's mental and physical health, and we thank the Forest Department for seeing to it that Mariappan – who has suffered far more than any living being ever should – is now back home where he belongs".
Unfortunately, not all elephants in captivity meet a happy fate. There is a growing scandal over the way in which elephants used in temples are typically kept. They are chained and controlled through beatings and are prodded and gouged in sensitive areas behind their knees and ears with an ankus – a rod with a sharp iron hook on the end. They rarely receive enough food or water, and most of them never see a veterinarian, even when they are injured or ill.
We extend our full support and strongly encourage the Tamil Nadu Government to take action quickly on behalf of other temple elephants in Tamil Nadu who need to be rescued and rehabilitated.