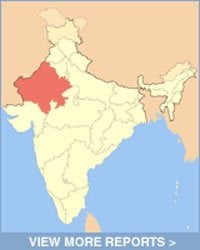 Rajasthan
August 2005
Many animals were housed individually.
One lion was isolated from the other lions in a small dark cage.
Two lions appeared to be suffering from a skin disease and had sores all over their bodies. A zookeeper, who said that the zoo lacked the equipment to do diagnostic testing, was unable to give details about the cause, treatment or progress of the disease. The animals were lethargic to the point of stupor. The cage was completely barren and had dirty, stale food lying around.
The meat provided to the lions was strewn all over the floor and was covered with flies and ants. Rats were observed eating the meat. The water tank was completely dry.
One enclosure housed several star tortoises, black bucks, chinkaras and rabbits. A zoo employee told our investigator that the rabbits were kept as food for the python. The cage was covered in debris, including pieces of rocks, wire mesh, buckets and steel plates. Big pieces of boulders and stones covered the ground.
Pigeons, white doves, parakeets and parrots were all housed together, but no educational information was provided about the various species. One bird was dead.
The civet cat enclosure was bare and did not have any enrichment. The animal was housed alone and was clearly distressed.
A fox in a small cage was visibly terrified and tried to hide in a corner to escape visitors who were harassing him. A nearby zoo employee did nothing to intervene.
The monkey enclosure was dark, dingy and completely lacking in enrichment. There were no trees for the animals to climb. Food was strewn all over the dirty, urine-covered concrete floor. The water was dirty. Visitors teased the animals in full view of the keeper.
A bear was kept alone in an enclosure and had no enrichment. The water tank was full of green-coloured water. Although the bear paced around incessantly, he was unable to walk properly, as his nails were grotesquely overgrown. This animal was in a state of profound distress.
The tiger enclosure had a water tank that was full of faeces. Visitors were able to cross the barrier and harass the tiger. The tiger was supposed to be relocated to the Jodhpur Zoo, but the animal had not yet been moved.