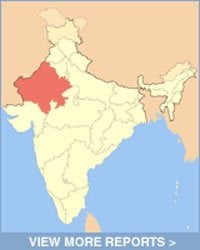 Bikaner, Rajasthan
August 2005
All the enclosures were concrete and barren and had no enrichment.
Enclosures were poorly maintained. Some were visibly unsafe, with exposed metal rods and pipes. Pieces of enclosure walls had fallen off in multiple places.
The fence in the jackal enclosure was completely rusted and ragged, exposing the animals to sharp metal wires. The ground was littered with chunks of meat, which were covered with dirt and flies. No water was observed.
The concrete walls and floor of the porcupine enclosure were cracked and broken, and pieces of rubble were strewn all over. Food was scattered all over the cage, and no water was observed.
The shallow pool of water in the bear enclosure was empty and in close proximity to visitors. No drinking water was observed. Hay was scattered on the roof of the cage, apparently in an attempt to provide cover from the extreme heat.
Two species of primates – the bonnet macaques and the rhesus macaques – were housed together in one enclosure; a baby monkey (the species was not known) was also in the enclosure. Food was strewn all over the floor, and the entire area reeked.
Monkeys were allowed to breed.
One monkey was observed eating a piece of plastic.
This zoo lost its recognition from the Central Zoo Authority.