Win Free Vegan Beauty Products From Plum Goodness!
This contest is now closed. The winners of the PLUM Goodness Contest:
Akshika Khatri
Adarsh Verma
Shveta Maheshwari
Deepthi Mukundan
Kratika Chaudhary
As a shopper, we understand it can be tricky to know which cosmetics aren't loaded with junk or made by companies that support animal testing. That's why PETA India has easy-to-use online databases of companies that test their products on animals and companies that do not test on animals so you can always be a compassionate consumer.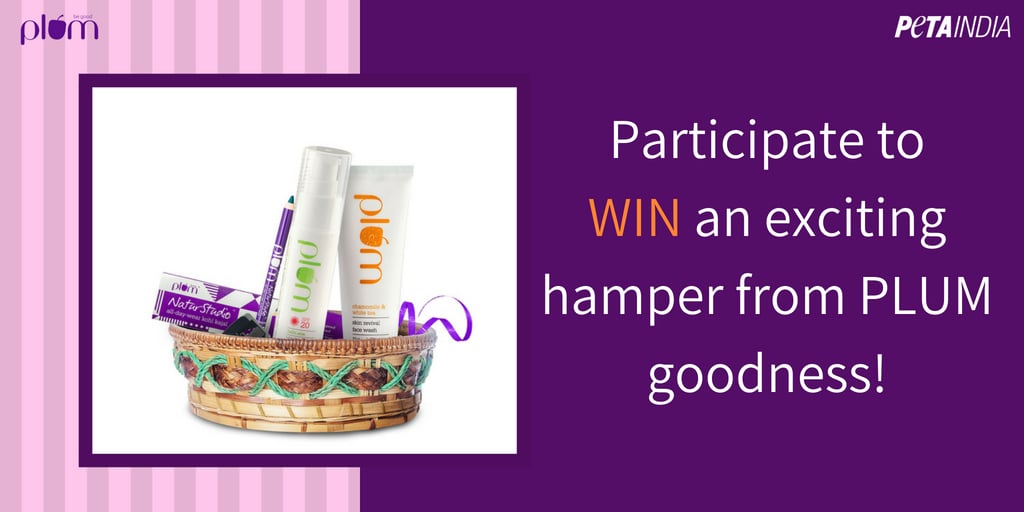 The latest cosmetic company to become PETA-approved for being 100 per cent vegan and cruelty-free is Plum Goodness, and the "be good" brand is so excited to join the growing list of companies that don't test on animals that it's giving away five juicy goodie bags to five random winners. Enter PETA India's Plum Goodness contest today for a chance to win big.
Plum Goodness is India's first online-only beauty brand and its nature-based products are free from harmful ingredients, including parabens, propylene glycol and sodium laurel sulfate. The vegan- and Earth-friendly brand relies on natural healing and rejuvenating ingredients, such as green tea, chamomile, grape seed and sea buckthorn and never inflicts painful, inhumane and unnecessary tests on animals. Plum Goodness knows that research conducted with modern, advanced technology has proven repeatedly to be more accurate than crude animal experiments .
These Plum Goodness hampers are ripe for the picking. Each winner will receive the brand's go-to 2-in-1 kohl cum liner, the NaturStudio All-Day-Wear Kohl Kajal in gemstone green; the five star-rated Chamomile and White Tea Skin Revival Face Wash; and the Hello Aloe Ultra Lite Day Lotion SPF 20 that is packed with over 200 nourishing ingredients. Don't miss out on this exciting opportunity to elevate your beauty game and makeover your medicine cabinet!
By always choosing to support companies that don't test on animals like Plum Goodness, you help keep animals out of laboratories. Don't forget to look for the PETA-approved bunny logo when shopping, and to follow Plum Goodness on Facebook, Twitter and Instagram for the latest news on products and sales.
This contest is for residents of India only. The call for entries closes on 7th September and the winners will be announced by 10th September.
Are you a US resident? PETA US will show you some love by hooking you up with lots of other cool contests!