Victory: Carlsberg Nixes Association With Elephant Polo Event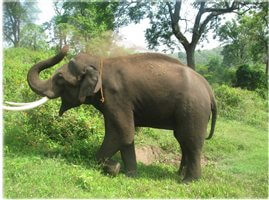 Three cheers for Carlsberg! Go out and celebrate tonight with Carlsberg Elephant beers. That's because the world-renowned Danish beermaker Carlsberg Group's subsidiary in India, Carlsberg India Pvt Ltd, has ended its support of the Polo Cup – a hideous and much-criticised elephant polo match scheduled to be held in Jaipur. The decision came after Søren Lauridsen, managing director of Carlsberg India Pvt Ltd, received an urgent letter from PETA India and after PETA India's chief functionary, Poorva Joshipura, had a series of telephone conversations with a Carlsberg executive. Carlsberg also heard from other caring activists and groups.
In the letter, PETA India pointed out that captive elephants are routinely trained and disciplined with the use of ankuses (heavy rods that resemble fireplace pokers, with a sharp metal hook on the end) that are dug into the skin. Captive elephants are also deprived of everything that's natural and important to them, including family life, and cruelly kept shackled in chains when they're not performing.
Replied Lauridsen, "After having heard and considered all view points, raised by you and various other stakeholders, we have decided to stop our association with this [elephant polo] event". He concluded, "We look forward to having a further positive dialogue with you".
Although it is illegal to beat and torture animals under the Prevention of Cruelty to Animals Act, 1960, elephants used for work in India are trained through the constant threat of being beaten and gouged with ankuses. A Rajasthan High Court order prohibits the use of iron ankuses but still permits them to be carried, making enforcement of the order nearly impossible. As a result, iron ankuses are often removed or hidden during polo matches to avoid controversy. Wooden ankuses, which can be used to inflict tremendous pain, are still fully permitted. PETA India has now proposed teaming up with the brewing giant to use its Elephant brand to further elephant protection.
In more good news, right after Carlsburg withdrew its sponsorship of the event, District Magistrate Naveen Mahajan of Jaipur announced that the elephant polo match will not be held.