While almost all of us have fallen victim to a good-natured April Fools' prank at one time or another, this year PETA has an idea for a "trick" that's really a "treat": fool your family (or yourself) with delicious mock meat.
Unlike conventional meat, vegan meat is high in healthy plant protein and fibre, low in saturated fat and free of cholesterol. Simply substitute versatile vegan meat in any recipe that calls for animal flesh. With its fooled-you flavour, you'll never know the difference!
Here are two recipes to try:
Tease Your Taste Buds Thai Red 'Chicken'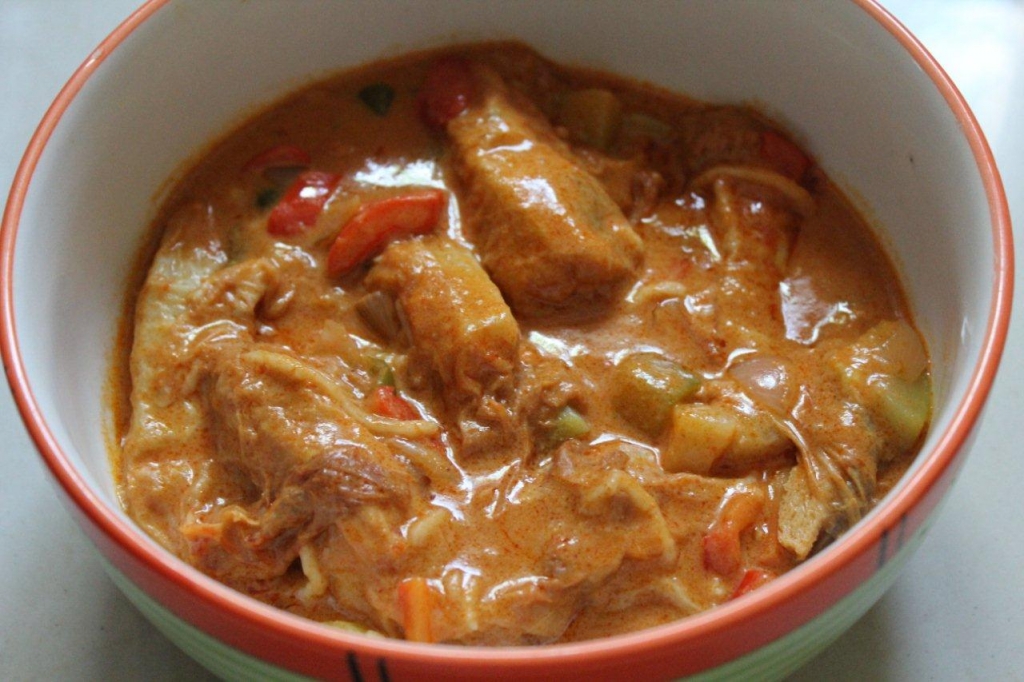 2 tsp olive oil
500 g mock chicken pieces
2 Tbsp red Thai curry paste
1 cup zucchini, cut in half lengthwise and sliced
1 red bell pepper, seeded and sliced into strips
1/2 cup carrots, sliced
1 onion, diced
1 Tbsp cornstarch
1 can light coconut milk
Cilantro, chopped
Heat the oil in a large pan. Add the mock chicken pieces and sauté for 10 minutes.
Add the curry paste, zucchini, bell pepper, carrot and onion. Cook, stirring, for a few minutes more.
Dissolve the cornstarch in the coconut milk. Add this mixture to the pan, bring to a boil and simmer over medium heat for 2 minutes.
Stir in the cilantro and serve immediately.
Makes 4 servings
This recipe was adapted from http://allrecipes.com/recipe/thai-red-chicken-curry/. 
Better-Than-Chicken Kolhapuri
2 Tbsp chilli powder
2 Tbsp turmeric powder
2 Tbsp ginger paste
2 Tbsp garlic paste
10 small pieces mock chicken
1 Tbsp cumin seeds
1 tsp fenugreek seeds
3 Tbsp coriander seeds
2 tsp white poppy seeds
1 tsp sesame seeds
1/2 cup desiccated coconut
5 cloves
5 green cardamom pods
5 black peppercorns
5 cinnamon sticks
1 cup onions, chopped and fried
Oil, for sautéing
1 pinch asafoetida
6 whole red chillies, fried
1 tomato, diced
1 1/2 cups water
Juice 3 lemons
Coriander leaves, for garnish
Combine the chilli powder, turmeric powder and ginger and garlic pastes. Marinate the mock chicken in this mixture for 15 to 20 minutes.
Roast the cumin seeds, fenugreek seeds, coriander seeds, white poppy seeds, sesame seeds, coconut, cloves, cardamom pods, black pepper and cinnamon.
Place the fried onions and the roasted spices in a blender or food processor. Blend with a little water to make a smooth paste.
Heat a little cooking oil in a sauté pan. Add the asafoetida, whole red chillies and tomato and sauté lightly. Add the onion mixture and continue cooking.
Add the marinated mock chicken and sauté for another 2 minutes. Add 11/2 cups of water and cook over low heat until the mock chicken is heated through. Add the lemon juice and stir well.
Spoon onto a serving platter, garnish with coriander leaves and serve immediately.
Makes 4 servings
This recipe was adapted from http://cooks.ndtv.com/recipe/show/chicken-kolhapuri-176180.
Now that you see how easy it is to fool even the most diehard meat-eater, why not do it every day – by going vegan and dishing up healthy, animal-friendly delights for your family members and friends? To help you get started, we've got vegan recipes galore on our website, or order our free vegetarian/vegan starter kit by writing to [email protected].