Tamil Nadu's harvest festival begins on 14 January. This four-day celebration traditionally involves paying tribute to cows. Make the festival a true celebration for the cows – and you – by preparing this tasty vegan (ghee-free) version of the festival dish.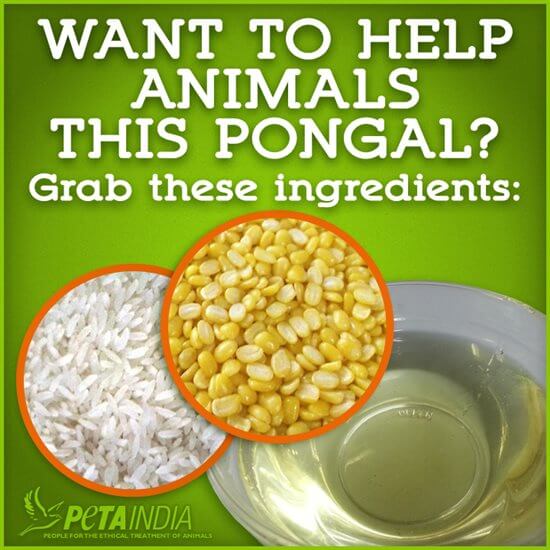 Sweet Pongal
1 cup moong dal
2 cups rice
2 Tbsp vegetable or coconut oil, plus more for frying
1 1/2 cups jaggery powder
Cardamom powder, to taste
Diced dried fruits, to taste
Sauté the dal and rice together  until slightly brown.
Let the mixture cool, then put in a pressure cooker.
Add an equal volume of water to the mixture and turn on the heat.
Wait for two whistles, then turn off the heat.
Add the 2 tablespoonfuls of oil and the jaggery powder and boil until the jaggery dissolves and binds all the ingredients together.
Fry the cardamom powder and dried fruits in oil. Add to the dal and rice mixture, mix well and serve.
Makes 4 to 5 servings