Sania Mirza Wants You to Adopt
Sania Mirza Wants You to Adopt, Not Shop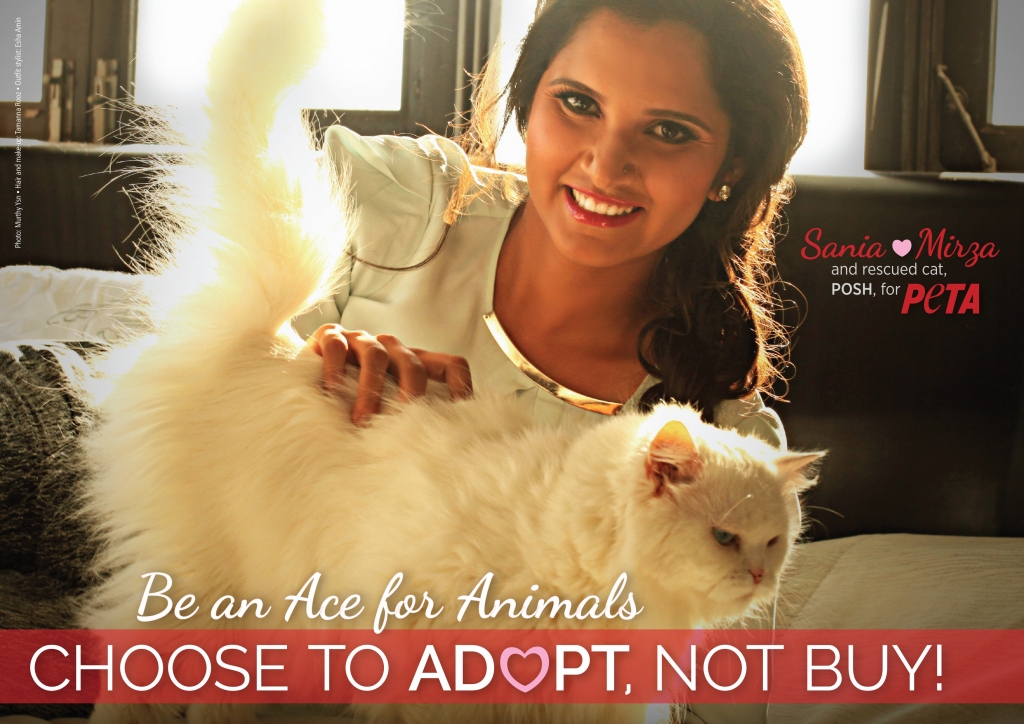 As the world's number one tennis player in the women's doubles category, Sania Mirza knows a thing or two about winning strategies. That's why she's using her A game to help PETA get the word out that adoption saves lives and reduces animal homelessness. Sania's purrfect look was styled by Esha Amin, her hair and make-up were done by Tamanna Rooz and top photographer YSN Murthy shot the adorable ad.
Cuddled up with her rescued cat Posh, this tennis star and proud adoptive mother of two kitties understands the many benefits of opening up her home to animals. When Sania found Posh, the cat was blind in one eye and very scared. "But now after a year she is a happier cat … very lovable as well", Sania says. "I really miss them when I am on the tour and it's great to come back … I think it's the best feeling in the world."
India's streets and animal shelters are full of animals who need loving homes. Dogs and cats on India's streets fall victim to cruel people and careless drivers who crash into them, causing serious injuries and, unless someone with a big heart comes along, are left to fend for themselves without veterinary care. Shelters are packed with animals and unable to meet the constant demand for more space. Breeders and pet shops worsen the animal overpopulation crisis and the animals they produce steal homes from the ones who really need them.
Rescued animals make the best companions. They are grateful to be spared a difficult life on the streets or to be adopted from an animal shelter. "I feel happy that I have saved lives by adopting cats from the streets", Sania says. "I urge everyone who has time and space to be a champion for homeless animals by please adopting a dog or cat from an animal shelter or the street, instead of from a pet store or breeder."
Be like Sania and save a life while gaining a forever friend – pledge to adopt and never buy. And don't forget to get your four-legged friend sterilised so that more dogs and cats don't wind up on the street.