Rise of the Eastern Blood – a New DSR Release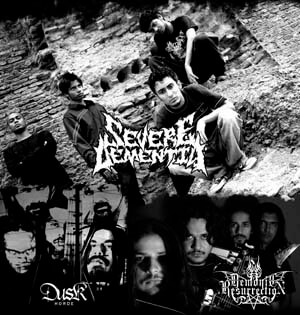 petaDishoom and animal rights supporters, Demonstealer Records, is proud to announce the release of the 3rd split CD, Rise Of The Eastern Blood. The CD showcases 3 of the subcontinent's best bands: Demonic Resurrection (India), Severe Dementia (Bangladesh) and Dusk (Pakistan). And to top it off, since no release from DSR is complete without bonus tracks – 2 songs from a killer band called Helmskey (Singapore). That makes Rise Of The Eastern Blood sixteen tracks of non stop metal mayhem. Demonstealer says that it is important to preserve wild animals' natural habitats. He believes that if forests and jungles are destroyed, the Earth will eventually die, and so it will benefit all of us to preserve wildlife and its natural habitats. Read what else Demonstealer had to say in this exclusive petaDishoom interview: http://www.petadishoom.com/page3/demonic_resurrection.asp.
The music on this CD is unique and spans various genres: Demonic Resurrection's brand of demonic metal which merges power/death and black metal. Severe Dementia plays brutal death metal with a heavy dose of technicality and also experimental passages in their music molding all their influences. Dark, brooding and sinister is the best way to describe the doom/death genre that Dusk plays. And finally, Helmskey brings it on loud and clear with their melodic black metal style of music.
For more on all the bands that support petaDishoom, check out http://www.petadishoom.com/page3/index.asp.