Raveena Thinks Leather is Not Mast
Mast girl Raveena Tandon has donned a new avtaar to speak out against the use of leather. According to Raveena, leather is never sexy or fashionable.
She says, "We think it is a style statement, but actually, the way it is made and the way we use it, it harms us."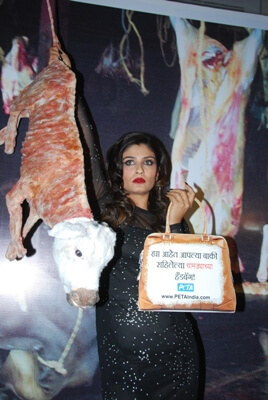 According to Fair TradeMark Canada, many rivers in India are poisoned by tannery wastes. Groundwater near tanneries has been found with highly elevated levels of lead, cyanide and formaldehyde. Who wants that in their water?
And this doesn't even touch on the horrible things the animals are exposed to. Just for starters, young cattle are often deliberately maimed since it is illegal to kill healthy young cattle. Believe it or not, India's treatment of cows is among the cruelest in the world.
Want to help the cattle cruelly killed for their skins? First, pledge to never wear leather again. Then, sign up for the petaDishoom Street Team to get active for all animals.