Rajdhani's 'Royal Kitchen', Rasovara, Celebrates Vegan Week!
Here's a delicious piece of news for vegans and health-conscious people of Mumbai: Rajdhani's "Royal Kitchen", Rasovara, is celebrating its Vegan Week from 2 to 8 December.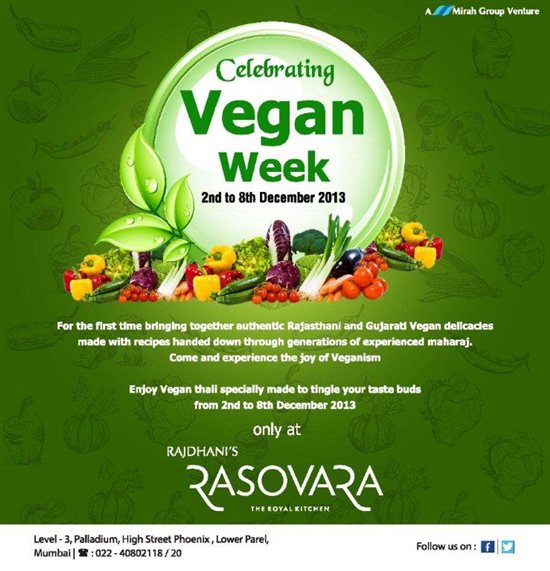 Rajdhani's Rasovara is bringing together authentic Rajasthani and Gujarati vegan delicacies made with recipes handed down through generations of experienced Maharaj. You can experience the joy of veganism with a royal twist. The vegan thali has been specially made to tickle your taste buds and includes traditional dishes like kokam sarbat, dal bati churma, kadi, jodhpuri gatta, bhakri and mouth-watering desserts like jalebi and dry fruit halwa.
Whether you choose to go for lunch or dinner, you are in for a treat because the Rasovara seasons every vegan thali with care and compassion!
The brand-new vegan thali will be available even after the Vegan Week but only for prior bookings. To let diners know about its vegan initiative, Rasovara has put up PETA's "vegan-friendly" stickers in its windows and on its tabletops.
Visit Rasovara's Facebook page for directions and hours and to check out the tasty treats for yourself. Do take your friends and family, and be sure to say that your friends at PETA sent you!