Take a 'Cue' From Pankaj Advani and Go Vegetarian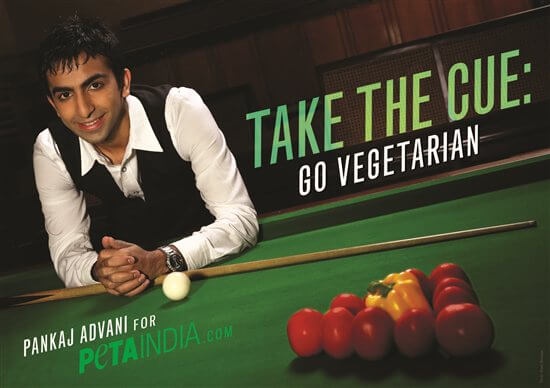 Anyone who knows anything about billiards knows that Pankaj Advani is the man. Besides bagging a gold for the country at the Asian Games this year, he has also won more than a dozen awards – including the Rajiv Gandhi Khel Ratna award for excellence in sports and Padma Shri, which is one of the highest civilian honours in India. Pankaj is only the second Indian to become the World Billiards Champion. And as if all these achievements weren't impressive enough, Pankaj is also a vegetarian! Recently, Pankaj took time away from beating opponents at snooker to pose behind a snooker table for a new PETA ad encouraging everyone to go vegetarian.
So what makes Pankaj so snookerific – besides an awesome aim and five hours of practice per day? His vegetarian diet, of course! Pankaj says his fruit-and-veggie–based diet is the key to staying physically fit and mentally focused, and he has credited it with keeping him "light and alert".
Not only are vegetarians leaner and trimmer than their meat-eating counterparts, going vegetarian is also better for your health. Eating meat and other animal-derived foods has been conclusively linked to heart disease, diabetes, obesity and cancer. And going vegetarian is better for animals too. In factory farming – which is gaining popularity in India – animals are confined to stalls, cages or sheds that are often so tiny that the animals cannot even turn around or take a single step in any direction for their entire lives. They never get to breathe fresh air, bask in the sun or feel the grass beneath their feet, and they are killed in painful and cruel ways.
So how about getting on the "stick" and taking a cue from Pankaj by taking the pledge to be veg?