Make Sweet Vegan Christmas Treats
Seriously, nothing says "happy holidays" like oh-so-decadent baked vegan goodies. Chock-full of deliciousness (and did we mention chocolate?!), sans any "Grinchy" ingredients such as eggs and dairy products, the following festive desserts will help make this the best-tasting Christmas ever – guaranteed!
Cruelty-Free Fa-La-La-La Fruit Cake
Adapted from http://www.vegansociety.com/lifestyle/food/recipes/cakes/fruit-cake.aspx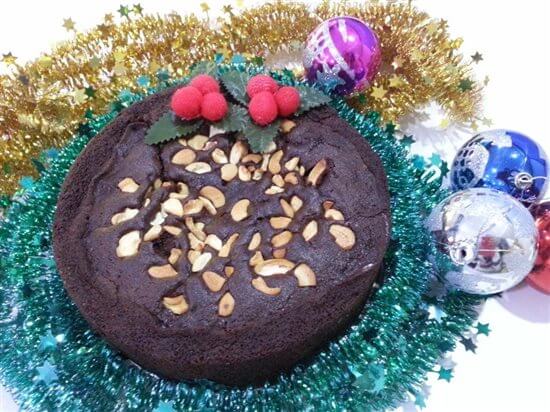 900 g dried fruit
1 pint rice or soya milk
200 ml vegetable oil
450 g self-rising wholemeal flour
55 g almonds, ground
1 Tbsp molasses
1 lemon rind
Pinch allspice
Jam or vegan marzipan, for garnish (optional)
Mix all the ingredients except the jam together in a large bowl. Beat well.
Pour into a well-greased 9-inch cake tin (one with a detachable base is best). Cover with greaseproof paper.
Bake for 2 hours at 300°F, then reduce the heat to 250°F and bake for 1 to 2 more hours.
Allow the cake to cool in the tin.
Top with jam or vegan marzipan, if desired.
Makes 4 to 5 servings
Very Merry Vegan Christmas Pudding
Adapted from http://www.vegansociety.com/lifestyle/food/recipes/christmas/christmas-pudding.aspx 
30 g vegan margarine
2 Tbsp black treacle
110 g breadcrumbs
110 g wholemeal flour
3 Tbsp baking powder
110 g dried apricots, chopped
110 g prunes, chopped
300-g mixture currants, sultanas and raisins
110 g soft brown sugar
1 cooking apple, finely grated
1 medium carrot, finely grated
3 tsp mixed spice
1 tsp ground ginger
1 tsp cinnamon
1/2 tsp nutmeg
1/2 tsp salt
Juice and grated rind of1 lemon
3 Tbsp sherry
In a large bowl, cream the margarine and treacle together.
Add all the other ingredients to the bowl and stir until the mixture attains a "soft dropping" consistency.
Pour into a basin, leaving about 2 1/2 cm at the top to allow for the pudding to rise. Cover with greaseproof paper and aluminum foil and secure with string. 
Place the basin in a saucepan and add boiling water until it reaches halfway up the sides of the basin.
Simmer gently for 5 hours. Top the water off as necessary
Once cooked, the pudding can be kept cold until needed.
Steam for 2 hours before serving.
Makes 3 to 4 servings
Yummy Vegan Chocolate Muffins
Adapted from http://www.veganpinoy.com/food-recipes-world-fusion-vegan-muffins.php 
1 1/2 cups self-rising flour
1/4 cup cocoa powder
1 tsp baking soda
2 tsp baking powder
1/2 tsp salt
1 cup flaked almonds
1 cup sugar
3–4 bananas
1/2 cup soya milk
2 tsp vinegar
1 tsp vanilla extract
1 Tbsp orange zest1/3 cup oil
1 cup vegan dark chocolate, melted
Ground nuts, for garnish
Preheat the oven to 350°F.
Line a 12-cup muffin pan with paper liners or lightly grease the pan with non-stick cooking spray.
Sift the flour, cocoa powder, baking soda, baking powder and salt together in a large bowl.  Add the flaked almonds and sugar and mix well.
In a separate large bowl, mash the bananas with a fork until soft. Add 1/4 cup of the soya milk, followed by the vinegar, vanilla extract, orange zest and oil. Mix well. Add the remaining soya milk and mix again.
Add the wet mixture to the dry mixture and mix until just combined. Stir in the melted vegan chocolate.
Fill each muffin cup 2/3 full with batter.
Bake for 25 minutes, or until a toothpick inserted in the centre comes out clean.
Let cool, then garnish with ground nuts and enjoy!
Makes 12 muffins
Enjoy!