Levi Leipheimer's 'Save the Seals' Ad
Top American cyclist Levi Leipheimer is never too busy to help an animal in need, so we weren't surprised when, after his Tour of California win, he took time out of his hectic training schedule for the Tour de France to shoot a "Save the Seals" ad.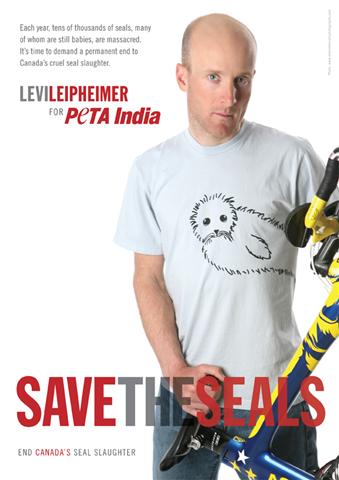 Levi Leipheimer's ad
Having competed in races such as the Tour of Germany and the Tour de France, Levi understands the importance of using his international celebrity to spread the word about putting an end to Canada's annual seal slaughter. Says Levi, "Baby seals being skinned alive, it doesn't get worse than that."
You can also support PETA India's campaigns by making a donation to improve lives of thousands of animals in our country, and by joining the petaDishoom Street Team to volunteer for activities in your area.