India Gets World's First-Ever Vegan Discount Card
World billiards champion Pankaj Advani teamed up with PETA India to unveil the world's first-ever vegan discount card, PETA's V-Card, in Bangalore at The Chancery Pavilion. The V-Card gives cardholders a 10 per cent discount on vegan foods from special V-Card menus at the Ithaca in The Chancery Pavilion and other participating restaurants in Bangalore and Mumbai.
The card – which can be ordered for free from PETAIndia.com – debuted in November in honour of World Vegan Month. PETA's V-Card initiative is supported by Burrp!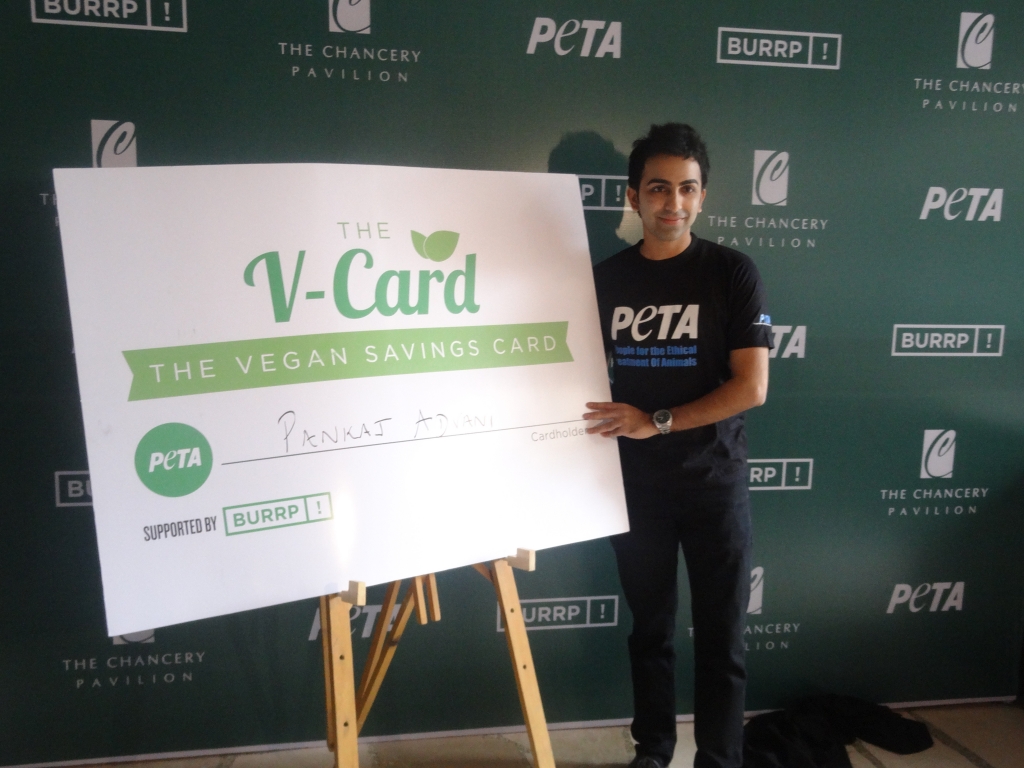 In today's meat industry, chickens are crowded by the tens of thousands into filthy sheds that reek of ammonia from accumulated waste. At the slaughterhouse, their throats are cut and their bodies are dunked into scalding-hot water for feather removal, often while they are still conscious. Other animals slaughtered for meat are crammed into vehicles in such large numbers that many are severely injured or die en route to the slaughterhouse. The animals are hit, dragged and cruelly handled and are often denied food and water.
Vegan meals help reduce the risk of suffering from heart disease, strokes, diabetes, obesity and cancer. They also help the environment: raising animals for food is a leading cause of water pollution, land degradation and the greenhouse-gas emissions that cause climate change.
Advani joins a growing list of celebrities – including Lara Dutta Bhupathi, Shahid Kapoor, R Madhavan, Hema Malini, Anil Kumble, Pamela Anderson and Paul McCartney – who have teamed up with PETA to promote a healthy and compassionate animal-friendly diet.
Why not give vegan dining a chance?