CONTEST IS CLOSED: Flaunt Your Vegan Style: Enter PETA India's Rachel & Pallavi Contest
CONTEST IS CLOSED!
THE WINNER IS: Muskaan Tatawat
Fashion news alert! "PETA-Approved Vegan" brand Rachel & Pallavi has teamed up with PETA India to promote animal-friendly fashion by giving the perfect vegan spring outfit to one randomly selected winner. The brand's eye-catching, cruelty-free designs promote India's rich heritage and culture, and it believes that animals deserve respect and should be free from harm. Its quality vegan clothing celebrates the use of traditional handwoven and block-printed textiles without using any harmful components or animals.
All you have to do for a chance to score these easy-breezy Afghani-style cotton pants and a cool cotton tank is enter PETA India's Rachel & Pallavi Contest today!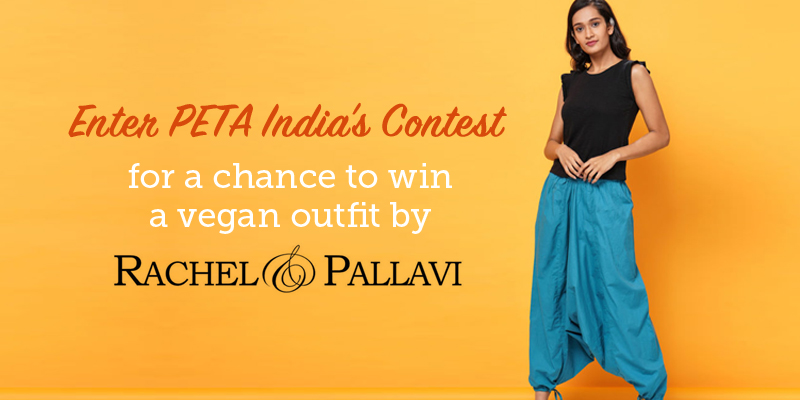 Supporting vegan fashion brands like Rachel & Pallavi – which uses animal-free, organic, and eco-friendly fabrics – means helping to create a more compassionate world. It's not necessary to abuse and kill cows, sheep, goats, rabbits, dogs, reptiles, or other animals to produce luxurious clothing, accessories, and shoes, which is why designs that don't use animals' hair and skins are popping up everywhere. Supple vegan leather can be made from a variety of synthetics, rubber, cork, or other non-animal materials and be given a variety of looks and textures. Faux fur has already taken the fashion world by storm and is readily available. In fact, recycled plastic bottles, waxed canvas, mushrooms, kombucha tea, and even fruit can be used to make vegan fabrics, and instead of silk, many designers use lush fabrics made from milkweed seedpod fibres, Tencel, silk-cotton tree filaments, nylon, polyester, rayon, or bananas. Talk about animal- and Earth-friendly!
Designing with leather, fur, wool, silk, or any other cruel material sentences animals to immense pain, suffering, and gruesome deaths, and it damages the environment. Make a positive difference in the world and your wardrobe by supporting cutting-edge vegan fashion companies like Rachel & Pallavi. Check out PETA India's list of companies that use our "PETA-Approved Vegan" logo for easy shopping, and follow Rachel & Pallavi on Facebook, Twitter, and Instagram to learn more about the brand's kind creations. Good luck!
CONTEST IS CLOSED: This contest is for residents of India only. The call for entries closes on 16 May, and the winner will be announced by 17 May 2019.
 Are you a US resident? PETA US will show you some love by hooking you up with lots of other cool contests!
By signing up here and giving us your contact details, you're acknowledging that you've read and you agree to our privacy policy.