Happy Ramadan, everyone! Ramadan is a time for compassion and reflection, so why not break your fast with an all-vegan meal, including delights such as vegan seekh kebabs or kesar phirni. To help, we've provided the recipes below.
Of course, everyone, regardless of religion, can enjoy these savory, healthful dishes. They're delicious. So eat up!
Vegan Seekh Kebabs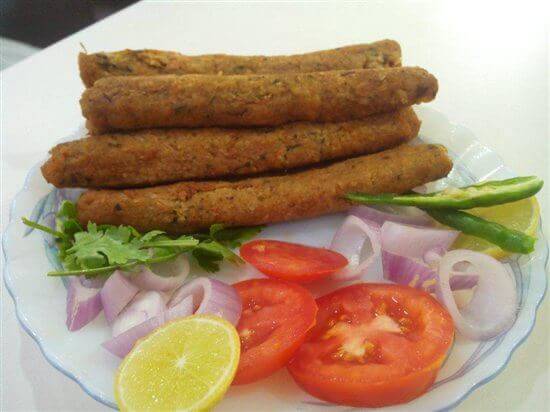 2+ Tbsp oil, for basting
15-20 French beans, chopped
1/4 cup cabbage, finely chopped
4 medium carrots, chopped
3/4 cup green peas, blanched 
3 1/2 Tbsp gram flour
1 tsp caraway seed (shah jeer) powder
2 Tbsp ginger-garlic paste
4 green chillies, chopped
3 medium potatoes, boiled and mashed
1 1/2 cups American corn kernels, boiled
Salt, to taste
2 Tbsp cashew nut powder
3 tsp chat masala
Heat 2 tablespoons of the oil in a pan. Add the French beans, cabbage and carrots and mix on one side. Add the green peas on the other side and mash them. Mix everything and cook for 3 to 4 minutes and push the mixture to one side of the pan.
On the other half of the pan, roast the gram flour and caraway seeds for 2 minutes. Mix the vegetables and flour blend together and add the ginger-garlic paste and green chillies. Mix well and sauté for half a minute. Put the potatoes in a bowl and add the corn, vegetable mix, salt and cashew nut powder and 2 teaspoons of the chat masala. Mix well, then divide into 16 equal portions.
Take a portion of this mixture and place on a satay stick before pressing it around the stick until evenly layered. Press the ends firmly. Season the grill stone with the remaining oil and heat. Place the kebabs on the hot stone and cook, basting with oil on each side, for 3 minutes, or until lightly coloured all around.
Serve hot sprinkled with the remaining chat masala.
This recipe is adapted from SanjeevKapoor.com.
Kesar Phirni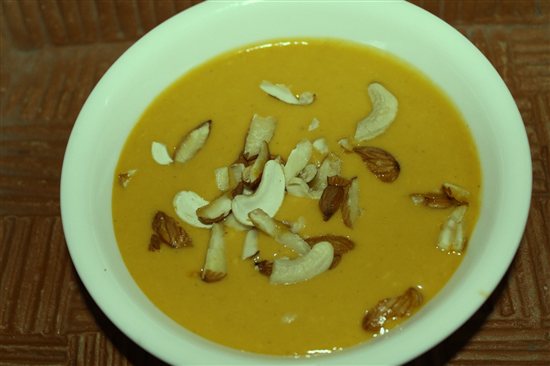 1/2 cup basmati rice (or some other long-grained rice)
4 cups soya milk
1/2 cup sugar
1/2 tsp cardamom powder
Pinch of saffron
1/2 cup mix of unsalted almonds and pistachios, chopped coarsely
Thoroughly wash and drain the rice. Put into a bowl and cover with water. Soak for 2 hours.
Drain and grind the rice to a very coarse paste with a mortar and pestle or on a hard surface with the back of a spoon. The rice needs to be broken down into small pieces but doesn't need to be completely smooth. You want to be able to see the pieces.
Put the rice paste, milk, sugar, cardamom and saffron into a deep, heavy-bottomed pan and cook on medium heat until the rice is soft. Stir often to prevent the milk from scorching or burning.
Keep some nuts for garnishing but add the remaining nuts to the phirni (the rice and milk mixture). Stir well.
Turn off the heat. Allow the phirni to cool, then chill in the refrigerator for a minimum of 2 hours. You can put it either straight into the bowls you will serve it in or into a bigger container and scoop the cold dessert out later into smaller bowls.
Garnish with the remaining nuts.
Notes
You can use brown long-grain rice for this, but if you do, double the soaking time and make sure the rice is very soft before you refrigerate it.
You can add almonds and cinnamon or other flavourings.
If your soya milk has a lot of added sugar, consider cutting back on some of the sugar you add.
Advanced preparation necessary.
This recipe is adapted from HowNotToBeASkinnyVegan.blogspot.com.
Here are some more vegan recipes for Ramadan or any day.
Enjoy!
Written by Bhuvaneshwari Gupta