Cow-Friendly Recipes for Janmashtami
Lord Krishna's birthday is a time of celebration, and there's perhaps no better time than Janmashtami to remember that Lord Krishna loved cows. That's why he would never approve of the cruelty that takes place on today's dairy farms. Make your Janmashtami even sweeter this year with dishes that have not caused harm to cows and that are sure to please your family's tastebuds, too. For extra yummy-ness, check out the delicious cow-friendly recipes that we posted last year.
Sweet Potato and Date Halva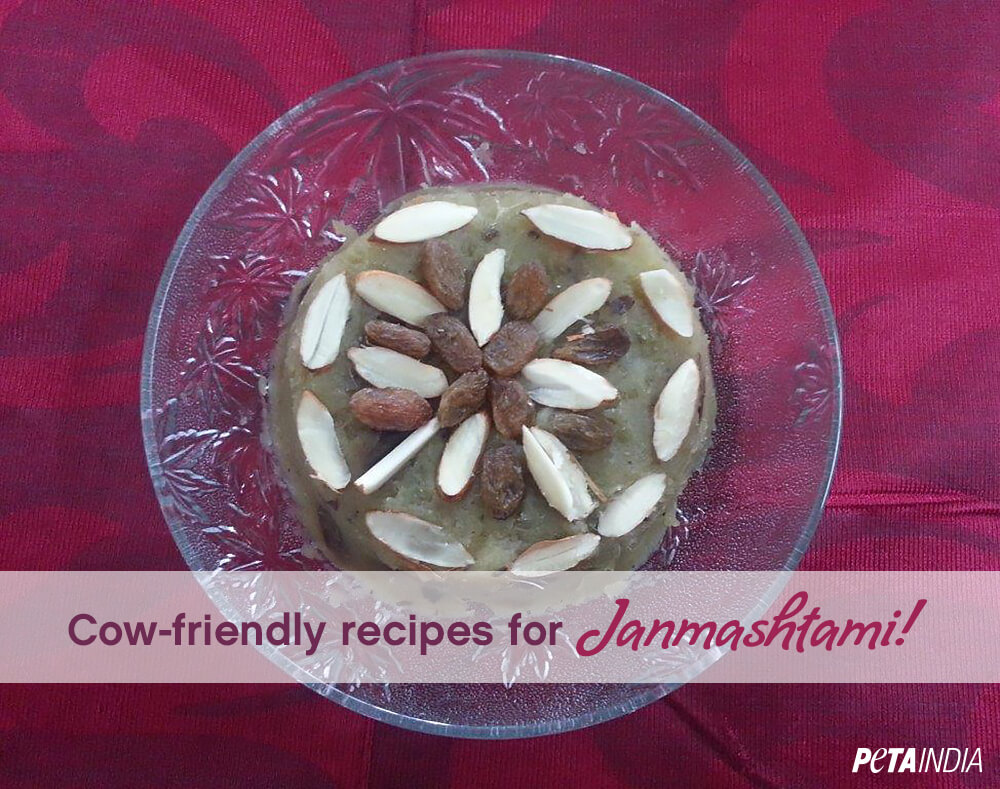 1 cup steamed sweet potato
3/4 cup seedless dates, minced
1/4 tsp lemon juice
1/4 tsp ground cardamom
1/4 cup golden raisins
1/4 tsp ground nutmeg
1 Tbsp almonds, slivered
Pinch of salt
Remove the skins from the sweet potatoes and mash.
Thoroughly blend the mashed sweet potatoes, dates, lemon juice and ground cardamom.
Garnish with the raisins, nutmeg and almonds.
Refrigerate until chilled.
Makes 4 servings
Adapted by Sharan India
Sheera
1/4–1/2 cup raw cashews
1 cup uncooked rava or cream of wheat
2 cups coconut milk (almond and soya milk work well, too)
1–2 saffron threads, soaked in 2 Tbsp coconut milk
1 tsp ground cardamom
1 large ripe banana, finely chopped
1/2 cup golden raisins, soaked in water
1 Tbsp agave nectar, jaggery or maple syrup (optional)
 Toast the cashews in a small skillet. Set aside.
In a medium saucepan, toast the rava or cream of wheat on medium heat until it turns just a couple of shades darker and tastes nutty. Transfer to a dish and set aside.
In the same saucepan, combine the coconut milk, saffron, cardamom and banana. Bring to a boil.
Add the toasted rava, stirring constantly to prevent any lumps from forming. It will take just a minute or two before the rava absorbs most of the coconut milk and becomes quite thick.
Stir in the cashews and raisins. Remove from heat.
The bananas and raisins bring a lot of sweetness to this dessert, so taste before you add the agave nectar, jaggery or maple syrup.
Makes 4 servings
Adapted by Sharan India
How are cows treated by the dairy industry? Watch this video to find out.