Celebrate Durga Puja, PETA Style!
At PETA, our style – compassion – never goes out of fashion! And what better time to show compassion than during Durga Puja?
Durga Puja celebrates the mightiness of Maa Durga, and the best way to show respect for all animal maas, such as cows, hens, fish and pigs, is by eating vegan food. Please watch how our sacred mother cows are treated cruelly for dairy and how animals killed for their flesh are treated. We're sharing some yummy vegan Bengali recipes to help you make this Durga Puja extra-special for your loved ones – including those with four legs, feathers and fins!
Mochar Chop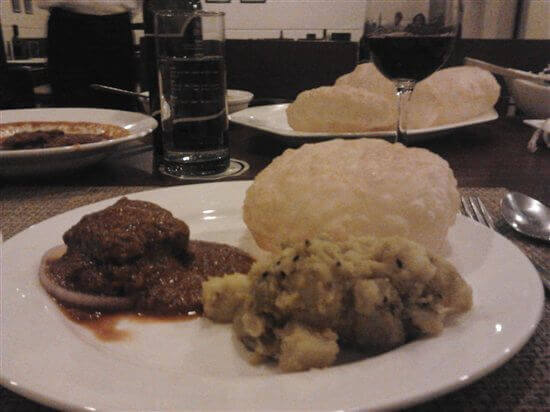 Estimated cooking time: 30 to 45 minutes
1 banana flower
1 Tbsp oil + 1 cup for deep frying
1/4 cup shredded coconut
2 Tbsp raisins
2-in piece ginger, ground
1 tsp chilli powder
2 tsp dhania-jeera powder
1 Tbsp + 1 cup flour
1 cup breadcrumbs
1 tsp garam masala
Salt, to taste
Water, as needed
Chilli or tomato sauce, for serving
Discard the outer purple leaves of the banana flower. Mince the inner petals and boil in salted water. Squeeze dry.
In a frying pan, warm 1 tablespoonful of the oil and gently fry the banana flower, mixing in the coconut, raisins, ginger, chilli powder and dhania-jeera powder. Add 1 tablespoonful of the flour (for binding) and roll into flat, round patties.
Combine the remaining flour, breadcrumbs, garam masala, and salt. Add the water, a little at a time, until the mixture reaches a thick consistency. Dip the patties into the batter and deep fry. Serve hot with chilli or tomato sauce.
Makes approximately 4 to 5 patties
Aloo Posto
Estimated cooking time: 40 to 45 minutes
5–6 medium potatoes, peeled and diced
1/4 cup poppy seeds
2 Tbsp mustard oil
1/2 tsp kalonji
1/2 cup water
1/2 tsp. sugar
Salt, to taste
2 green chillies, sliced
Place the potatoes in a bowl of water. Soak the poppy seeds separately in a cup of warm water for 20 minutes. Pour off the water and grind the seeds to a fine paste.
Heat the mustard oil in a pot. Mix in the kalonji and stir-fry briefly. Add the potatoes and stir-fry over medium heat for 5 minutes. Mix in the poppy-seed paste and water.
Turn the heat to low and cover. Cook, stirring occasionally, until the potatoes are soft. Add the sugar, salt and chillies. Cook for another 2 to 3 minutes and serve hot.
Makes 3 to 4 servings
Bengali Tomato and Khajur Chutney
Estimated cooking time: 30 minutes
2/3 tsp cooking oil
1/2 tsp mustard seeds
1 dried red chilli pepper
3–4 medium ripe tomatoes, chopped
1/4 cup jaggery or brown sugar, to taste
1/2 tsp grated ginger
5–6 dates, chopped
Heat the oil in a pan and add the mustard seeds and chilli pepper. Add tomatoes and cook, covered, over low to medium heat until most of the liquid from the tomatoes evaporates.
Add the jaggery, ginger and dates and cook for another 3 minutes until thick. Serve warm or cold.
Shubo Durga Puja!