Celebrate Baisakhi – Vegan-Style!
Happy Baisakhi!
Here are some recipes for traditional dishes to help you celebrate – vegan-style.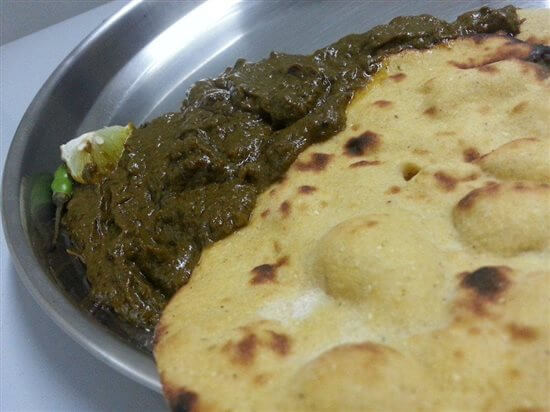 Makki Ki Roti
Adapted from http://www.archanaskitchen.com/indian-recipes/indian-breads/1025-makki-ki-roti-a-spicy-corn-meal-flat-bread
1 1/2 cups makki ka atta (cornmeal)
1/4 cup whole-wheat flour
1 green chilli, chopped
1 tsp grated ginger
Salt, to taste
Cooking oil
Combine all the ingredients except the oil in a mixing bowl. Add a little water and knead into a soft dough. Drizzle with a little oil and knead for a few more minutes until the dough is smooth.
Divide the dough into 10 portions (about the size of a lemon) and cover with a wet muslin cloth. Set aside.
Preheat an iron skillet. Put a wet muslin cloth on your working surface. Wet the palms of your hands and place a dough portion on the wet cloth. Pat with your fingers or use a rolling pin to make a flat circle, approximately 3 inches in diameter.
Use the muslin cloth to place the rolled-out dough onto the preheated skillet. Cook the roti on medium heat, flipping to cook both sides.
Once you notice lighter brown spots, smear with a teaspoonful of oil and cook for a few more minutes until lightly crisp.
Sarso Ka Saag
Adapted from http://www.archanaskitchen.com/indian-recipes/main-course-vegetable-gravy-recipes/1515-sarson-ka-saag-a-north-indian-recipe-of-mustard-leaves 
500 g fresh mustard leaves, washed and roughly chopped
250 g fresh spinach leaves, washed and roughly chopped
250 g fresh bathua leaves, washed and roughly chopped (optional)
Salt, to taste
1 tsp cooking oil
1 2-in piece ginger, grated
3 cloves garlic, finely chopped
1 large onion, thinly sliced
3 green chillis, cut into halves
1/2 tsp turmeric powder
1/4 tsp cinnamon powder
1 tsp cumin powder
Steam all the leaves with a little salt until soft but still green. Allow to cool. Pureé or mash with a masher, depending on how you like the consistency.
Heat the oil in a thick pan. Add the ginger, garlic, onion and green chillies. Sauté on low heat until the onions are completely tender (you can cover the pan halfway to create steam, which consumes less oil).
Stir in the greens. Add the turmeric, cinnamon and cumin powder for an extra boost of flavour.
Turn the heat to high and cook for a couple of minutes so that the greens absorb the spice and onion flavours. Transfer the sarson ka saag to a serving dish and enjoy with your guilt-free makki ki roti!
Not only will your body feel great without all the ghee, your conscience will also, as vegans save the lives of many animals per year! And why only for Baisakhi ? You can pledge to eat vegan every day.