You Can't Be a Meat-Eating Environmentalist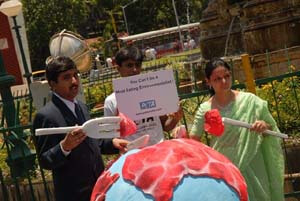 Eating out of a giant earth and holding placards reading You Cant Be a Meat Eating Environmentalist and Go Veg: For the Earth, For the Animals, For your Health, People for the Ethical Treatment of Animals (PETA) India created awareness on meat eating and its ill effects on planet earth on World Environment Day.
Activists were eating the earth, and others distributed leaflets on how you cannot be a meat eating environmentalist. India's increased use of intensive animal rearing, modeled after the western world's factory farming methods, is wreaking havoc on the environment. A recent study done by Times has pegged one of the main reasons for global warming as livestock rearing for food. The international meat industry generates roughly 18% of the world's greenhouse-gas emissions—even more than transportation—according to a report from the U.N.'s Food and Agriculture Organization.
Join us, and stand up for the rights of animals. http://www.petadishoom.com/streetteam/st_signup.asp