British MPs Go Vegan for Gandhiji
On 2 October, we celebrate the birth of one of the greatest practitioners of nonviolence in all of history, Mahatma Gandhi. To mark this occasion, the UN has declared 2 October as the International Day of Non-Violence, a day dedicated to working to "disseminate the message of non-violence, including through education and public awareness".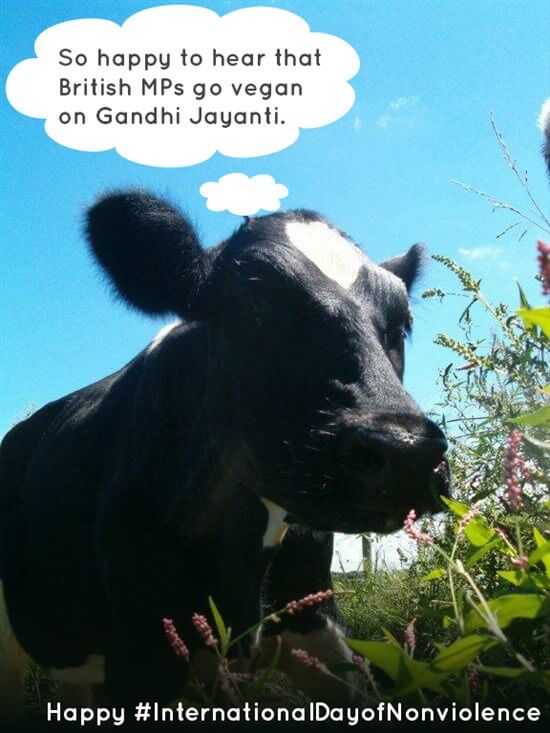 On top of that, it is World Day for Farmed Animals, an opportunity to recognise the suffering of the 60 billion terrified land animals who are killed for meat around the globe, often crammed into spaces so small that they can hardly move before they are slaughtered – all for nothing more than a fleeting taste of their flesh. What's more, billions of sea animals are dragged into an atmosphere in which they cannot breathe and are hooked, mutilated, boiled or crushed while still alive.
Gandhi taught that non-violence begins with what we eat. He famously said, "I hold that, the more helpless a creature, the more entitled it is to protection by man from the cruelty of man". And in his total commitment to non-violence, Gandhi always included animals, stating, "The greatness of a nation and its moral progress can be judged by the way its animals are treated".
Remarks MP Maneka Gandhi, "The best way for individuals, government offices and businesses to honour Mahatma Gandhi's birthday is by not eating meat or dairy on the International Day of Non-Violence.Mahatma Gandhi's legacy of peace and compassion for all living beings is not just a message of ahimsa but an economic and ecological necessity. Please pledging to eat and serve only animal-free food on 2 October".
So PETA UK asked British MPs to do just that.
Compassionate members of the UK Parliament, including the former British Olympics Minister, Dame Tessa Jowell MP; Adrian Sanders MP, Torbay; the Shadow Deputy Leader of the House of Commons, Angela Smith MP, Penistone and Stocksbridge; the Chair of the Parliamentary Labour Party, Dave Watts MP, St Helens North; Frank Doran MP, Aberdeen North; Grahame Morris MP, Easington; Martin Horwood MP, Cheltenham; Nic Dakin MP, Scunthorpe; the Parliamentary Under-Secretary for the Department of Transport, Norman Baker MP, Lewes; Teresa Pearce MP, Erith and Thamesmead and the Shadow International Development Minister, Tony Cunningham MP, Workington, have pledged to give vegan eating a try in honour of Gandhi on Gandhi Jayanti. A number of parliamentarians responded to PETA UK's request by saying that they are already vegan: these include the Shadow Economic Secretary, Cathy Jamieson MP, Kilmarnock and Loudoun; the Shadow Minister for Communities and Local Government, Chris Williamson MP, Derby North and the Shadow Foreign Office Minister, Kerry McCarthy MP, Bristol East.
They join Kerry McCarthy, Chris Williamson and Cathy Jamieson, three MPs who already leave meat, dairy products and eggs off their plates. These political leaders are leading by example.
More than 60 years after his death, Gandhi remains a source of wisdom and inspiration for the world. We may not be able to stop all the violence in the world, but we can lessen the amount of violence in our own lives. The only way to stop this cruel cycle of animal abuse is to practise non-violence and stop eating animal products.
Join the celebration, and mark Gandhi's birthday by making the compassionate choice to leave animals off your plate. Order our free vegetarian/vegan starter kit for recipes, tips and advice by writing to [email protected] with your postal address. Please put "Vegetarian/Vegan Starter Kit" in the subject line.