Amy Jackson Sticks Up for Chicks
After winning audiences over in Freaky Ali and Singh Is Bliing, the talented Amy Jackson is showing her love for animals in a brand-new ad campaign for PETA India during Vegetarian Awareness Month (October). The stunning ad was shot by ace photographer Abhay Singh. Jackson's hair and make-up were done by artists Aasif Ahmed and Adrian Jacobs, respectively.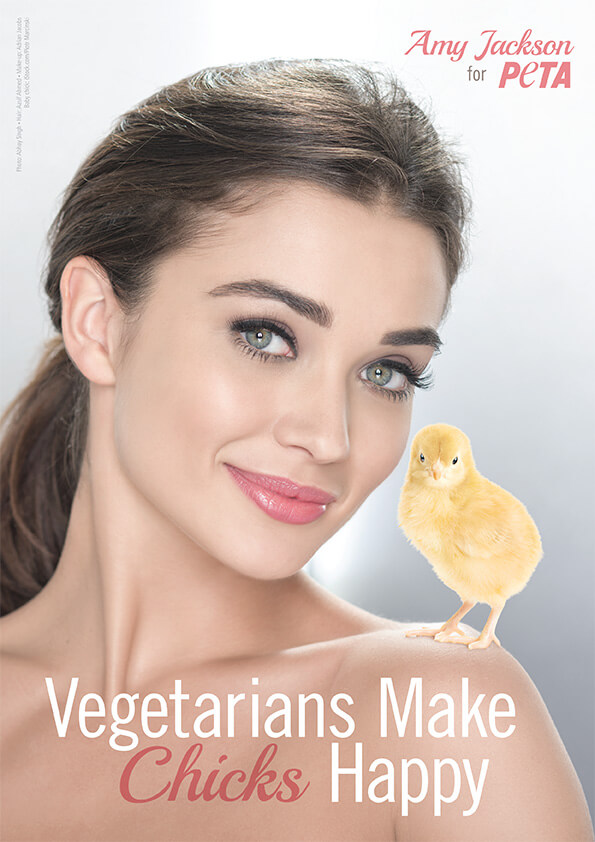 "[M]eat products can cause cancer, heart disease, obesity. So for cutting all of that out … it's just a no-brainer that we're going to be a lot healthier", says Jackson. About going vegetarian, she explains, "[M]y skin's got a lot clearer. I've noticed a change in my body – I've noticed a change in my metabolism. So all in all, I feel a lot healthier, a lot lighter, with a lot more energy, also".
As shown in PETA's "Glass Walls" video, animals used for meat suffer horribly. Chickens raised for food are fed a steady diet of antibiotics and bred to grow so large that their legs often break under their own weight. At so-called modern slaughterhouses, birds are shackled upside down and their throats are slit. Cows and buffaloes are crammed into vehicles in such large numbers that their bones break before they're dragged off to slaughter – where many are dismembered while they're still alive. In slaughterhouses, pigs are stabbed in the heart as they scream. On the decks of fishing boats, fish suffocate or are cut open while they're still alive.
Jackson previously starred in a PETA ad promoting the adoption of animals from shelters and now joins a long list of celebrities – including Lara Dutta, Sushil Kumar, Shahid Kapoor, Esha Gupta, Sonu Sood, Richa Chadda, Pankaj Advani, Anil Kumble, Hema Malini, VVS Laxman, Amrita Rao, R Madhavan, Kartik Murali, and Rahul Sharma – who have starred in pro-vegetarian ads for PETA India.
Join her and pledge to go meat-free today.