Rampant Cruelty to Bulls
The investigators collected photo and video evidence of many forms of abuse. The participants were observed yanking bulls by ropes threaded through their nasal septums. Among other cruel acts, they twisted the animals' tails, tackled them, and poked and hit them with metal sickles and wooden sticks that were often studded with nails.
Illegal Parallel Jallikattu by Spectators
Onlookers and spectators at the seven jallikattu events were filmed pouncing on and tackling bulls fleeing in the bull run areas, which is illegal. The same illegal practice was observed and filmed inside and outside the collection yards, as stated earlier, and was found to be particularly rampant in Avaniapuram and Palamedu. Parallel jallikattu causes additional physical injuries and mental trauma to the already frightened bulls.
COVID-19 Guidelines Brazenly Violated
The COVID-19 guidelines for organising jallikattu events in 2022 were brazenly violated at all the events investigated and at other events across Tamil Nadu. In Vellore, bull races were suspended because attendees violated COVID-19 standards of practice (SOP). An article in The Hindu titled "Bull races suspended in Vellore as people flout SOPs", dated 22 January 2022, stated, "With a daily increase in the total number of COVID-19 infections and violation of the [SOPs] in bullraces, Collector, P. Kumaravel Pandian, on Saturday, suspended bullraces in the district until further notification. According to a press release, the Collector said it was found that COVID-19 SOPs have been violated in the villages, where bullraces were conducted since Pongal." The utter disregard for COVID-19 restrictions shown by the organisers of jallikattu events across the state demonstrates that they care as little about human health and safety as they do about the safety and well-being of bulls.
Maximum participant limit of 300, spectator limit of 150, and arena capacity limit of 50% were also exceeded, all clear violations, in at least six out of the seven jallikattu events investigated.
No social distancing was seen at any of the seven events investigated, and the majority of spectators were not wearing face masks, thus violating the mandatory guidelines. These violations across the state were widely reported in the media.
Spectators were admitted without being required to show the compulsory COVID-19 vaccination certificate indicating two doses and negative RT-PCR test result.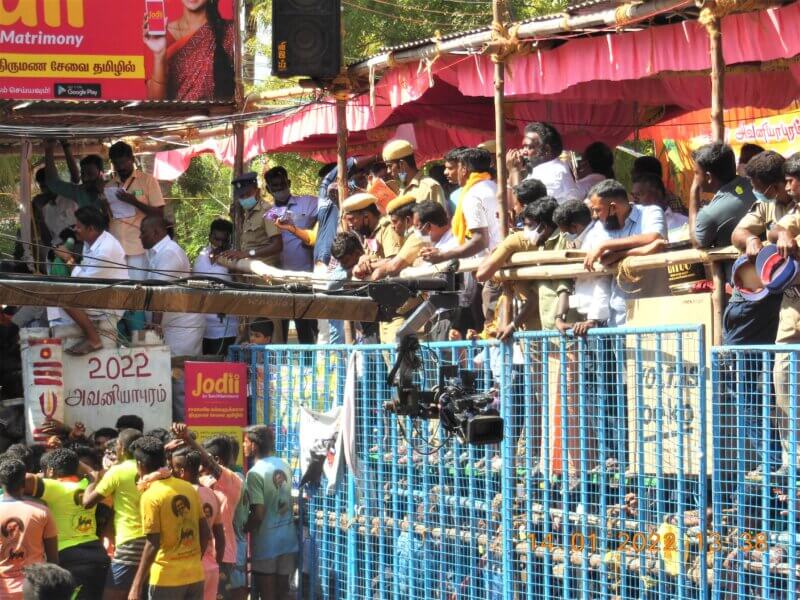 How Many More Must Suffer and Die?
In 2022, from 13 January to 30 April, two bulls and 17 humans reportedly died, while 1655 humans and at least six bulls were reportedly injured in jallikattu events.
Since the ban on this barbaric spectacle was lifted, i.e. between 2017 and 30 April 2022, 6351 humans were reportedly injured in jallikattu events. In the same period, 86 humans, 23 bulls, and a cow reportedly died in these events.
The actual figures could almost certainly be far higher, because not all injuries and deaths are reported in the news, especially the deaths and injuries of animals and humans that occur after an event is over or those that take place in remote villages.
Illegal Fox Jallikattu Continues Year After Year
In addition to abusing bulls, an illegal fox jallikattu event continues to be held year after year in Tamil Nadu.
For these events, foxes are illegally captured from their natural habitat, their hind legs tied, and their mouths muzzled to prevent them from biting. They are then released and chased through the villages.
PETA India's most recent investigation has proved that no regulation can eliminate cruelty during jallikattu events, as the very purpose of this violent and bloody spectacle is to terrify and taunt animals and to subject them to immense physical and mental trauma. PETA India has filed a petition with the Supreme Court of India seeking to repeal the PCA (Tamil Nadu Amendment) Act, 2017, a state law that exempts the bulls being used from the federal protections in the PCA Act, 1960, in order to permit the continuation of jallikattu.
You can help by signing the appeal below.
The compiled signatures will be delivered to the chief minister of Tamil Nadu.

Appeal:
Dear Chief Minister:
I was deeply saddened to learn about the cruelty inflicted on bulls during the 2022 jallikattu events in Tamil Nadu.
PETA India's latest eyewitness investigation as well as previous investigations confirm that jallikattu events take advantage of bulls' natural nervousness as prey animals and deliberately place them in a terrifying situation in which they're forced to run away from those they rightly perceive as a threat.
The evidence, in the form of photographs and video footage, shows that during jallikattu events, bulls are hit, tackled, and poked with wooden sticks (including nail-studded ones) and other sharp objects. Their tails are bitten and twisted, and they're treated in other cruel ways. At four out of the seven jallikattu events investigated in 2022, exhausted and dehydrated animals were forced to participate after being made to stand in queues for several hours without overhead shelter or sufficient water or feed. They were yanked roughly by nose ropes, causing their nostrils to bleed, and many collapsed from exhaustion or dehydration before and after they ran through the arena. Such abuse led to severe injuries, including broken bones, and even death.
It's been proved once again that no amount of regulation can eliminate cruelty during jallikattu, as the very purpose of this violent spectacle is to torment and taunt bulls and to subject them to immense physical and mental trauma.
In fact, since the Tamil Nadu government legalised jallikattu in 2017, at least 6351 humans have reportedly been injured in jallikattu events. In the same period (i.e. between 2017 and 30 April 2022), 86 humans, 23 bulls, and a cow reportedly died in these events. As bull deaths and even many human injuries aren't always covered by the media, the real figures are possibly much higher.
I request that you review the findings of these investigations, represent the facts of this issue in all forums, and ban these cruel events by repealing the Prevention of Cruelty to Animals (Tamil Nadu Amendment) Act, 2017, so that countless human and animal lives can be spared.
Sincerely,
[Your Name]