Help rescue Horses from the Cruel Kolkata Carriage Trade!
PETA India and the CAPE Foundation conducted an in-depth examination of over 100 horses used to haul tourist carriages in Kolkata. Despite often being obviously wounded, lame, emaciated, or sick, struggling horses are still forced to pull heavy carriages full of passengers on busy roads, breathing in exhaust fumes from traffic. The horses are also commonly whipped and beaten, forced to work all day in the heat and other extreme weather conditions, and given no option but to stand in their own waste. PETA India filed a public interest litigation on the use of horses, and we are hopeful that a court order will soon prohibit their use for tourists rides and events. We're seeking emergency funding to set up a temporary sanctuary in Kolkata so that the suffering animals can undergo rehabilitation and care prior to being transferred to permanent sanctuary homes elsewhere in the country.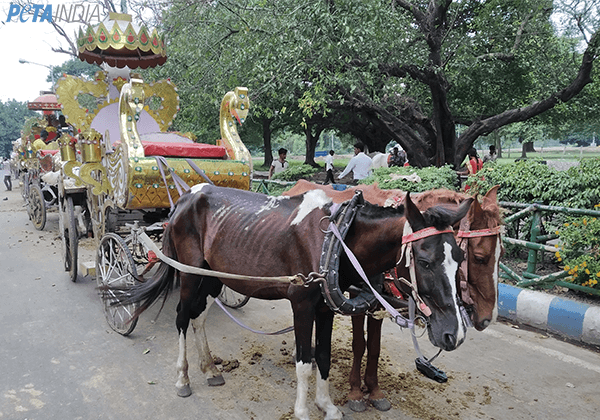 Please, give now – animals need you!