Victory! Animal Rides to Be Banned at Giza Pyramids After PETA Campaign
Great news! Egypt has announced plans to ban camel and horse rides around the Giza pyramids and in archaeological areas. The news follows more than a year of pressure from PETA India and affiliates, which included meetings with government officials. In addition, more than 500,000 concerned people like you contacted Egypt's Ministry of Tourism and Antiquities, urging it to ban animal rides at the country's top tourist sites.
Tourists will soon be able to use electric cars and buses, as recommended by PETA, instead of animals.
This announcement is a huge victory for all the camels and horses who are forced to haul visitors on their backs or in carriages at Egypt's top tourist sites in the blistering heat, without access to food, water, or shade.
PETA Asia's undercover investigation in the country revealed the immense suffering of these working animals, including those who slipped and fell to the ground. Workers were caught on camera whipping a horse mercilessly after he collapsed from exhaustion.
Many of the camels used for rides in Egypt come from the notorious Birqash Camel Market in Cairo, where PETA Asia filmed camels being beaten bloody. This footage led to the filing of a case by the Society for the Protection of Animal Rights in Egypt (S.P.A.R.E.) against the camel sellers at the market, the local council, the Ministry of Environment, the Ministry of Agriculture, and the Giza Governorate. Consequently, a security force in Egypt arrested three people for torturing camels at the market. The traders could be fined and could face imprisonment for up to six months under Article 357 of the Penal Code. Abusing working animals in Egypt also violates article 45 of the country's constitution, which states that "[t]he State shall protect … those under the threat of extinction or danger [and] guarantee humane treatment of animals."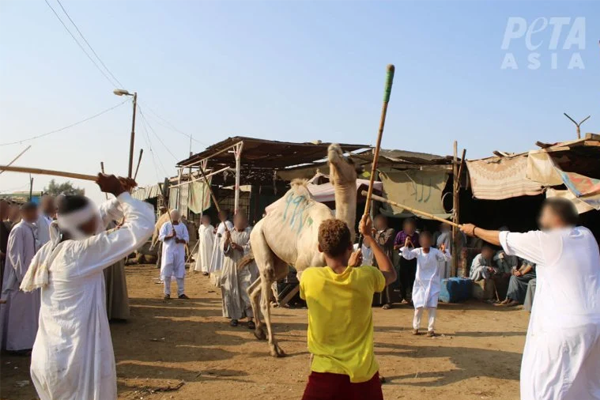 Animal abuse has no place at Egypt's majestic tourist destinations, and although this plan doesn't ban all animal rides across the country, we're thrilled by the progress.
Please join us in thanking the Egyptian embassy in Delhi for this compassionate decision:
Thank the Egyptian Embassy in Delhi
And congratulate Egypt's Ministry of Tourism and Antiquities on Twitter and Facebook:
Tweet at the Ministry of Tourism and Antiquities and the Tourism Authority
Comment on the Ministry of Tourism and Antiquities' Facebook Page
Will Elephant Rides at Amer Fort Be Next?
When they're just 2 years old, baby elephants are torn away from their mothers and either tied up between trees with heavy chains and ropes – which cause painful burns – or confined to a cramped wooden enclosure called a kraal. Trainers then beat the young elephants with sticks and jab them with sharp, hooked ankuses to break their spirits and force them to obey – and trainers continue to yank, jab, and thrash them in order to force them to perform or give rides.
A report by inspectors authorised by the Animal Welfare Board of India found that some elephants used for rides at Amer Fort were visually impaired. In addition, some tested reactive for tuberculosis – which is transmissible to humans – and they were forced to carry loads heavier than the legal maximum of 200 kilograms.
Join PETA India in calling on authorities to protect one of India's most sacred animals by putting an end to all elephant rides at Amer Fort immediately.
Help End Cruel Elephant Rides in Jaipur