CONTEST IS CLOSED – Enter the Piperleaf Eggishh Contest
When Anshul Agarwal went vegan in 2019, he noticed that there was room for more accessible, taste-driven, and healthy vegan food products in India, which prompted him to start Piperleaf, a 100% vegan food company led by a team of seasoned food technology professionals. After a year of research, Piperleaf recently launched Eggishh, its all-vegan egg replacement that is pulse-based and free from gluten, soy, and artificial preservatives. Eggishh has 6 grams of protein per serving, which is equivalent to a chicken egg, minus the cholesterol and cruelty.
PETA India is giving away Piperleaf's Eggishh to five randomly selected winners, so scramble for a chance to up your vegan breakfast game by entering PETA India's contest today!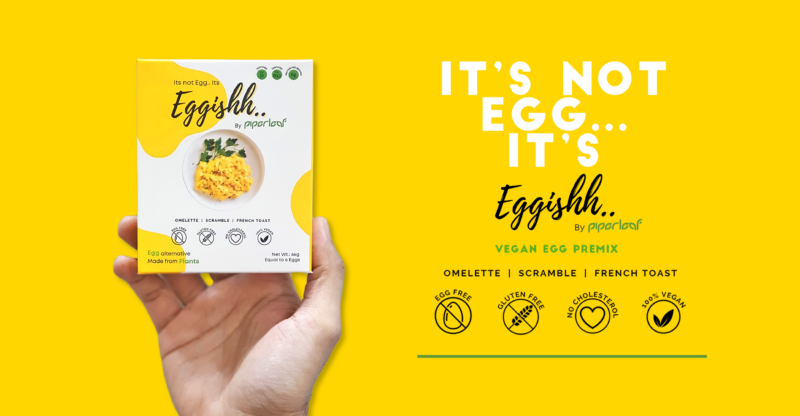 Scramble for a chance to be one of the five randomly-selected winners of Piperleaf's Eggishh by filling out PETA India's contest form below!
Choosing to eat vegan eggs instead of chickens' eggs spares these intelligent, social beings endless suffering. Farmers slice off newborn hens' beaks with burning-hot blades and cram them into cramped wire cages for about two years before they're shipped off to be slaughtered for their flesh. Male chicks are immediately disposed of like rubbish since they cannot lay eggs, and female chicks inherit their mothers' lifetime of misery.
Thankfully, we can all combat this horrific abuses and safeguard our health by enjoying vegan eggs like Eggishh instead. A single vegan spares nearly 200 animals each year, and eating vegan foods reduces one's risk of diabetes, cancer, heart disease, and other deadly conditions. In contrast, consuming eggs increases one's risk of cardiovascular disease by 19%, diabetes by 68%, colon cancer by nearly five times, and lethal prostate cancer by 81%. Eating vegan is also better for the planet: researchers at the University of Oxford found that eating vegan could reduce an individual's carbon footprint from food by up to 73%.
Good luck and keep enjoying and supporting wonderful vegan food!
This contest is for residents of India only. Contest is closed. 5 randomly-selected winners will be announced by 2nd February.
Are you a US resident? PETA US will show you some love by hooking you up with lots of other cool contests!