Win a PETA India 'Rescued' Calendar
As 2011 – a year full of exciting victories for animals – comes to an end, we hope that the coming year will bring even more good things to our furry, feathery and finned friends. As none of our victories would have been possible without your support and help, we would like to offer you the chance to win a wonderful New Year's gift.
Yes, we are talking about the much discussed 2012 "Rescued" calendar, which contains beautiful images of animals PETA India and its affiliates around the globe have rescued.
It is super-easy to enter the contest. All you have to do is simply suggest a caption for this ultra-cute image from the calendar. The winners will be the 15 people who come up with the captions that PETA deems to be the best representations of what Priya the monkey might like to say if she could: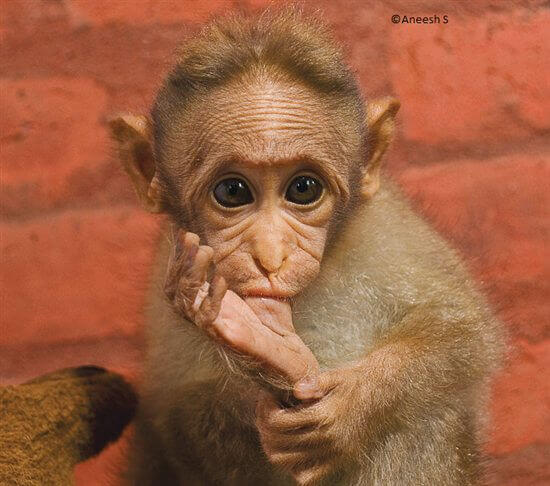 Priya was found clinging to her mother, who appeared to have been injured in an attack by a predator, near a hotel in Coonoor, Tamil Nadu. The hotel called India Project for Animals and Nature (IPAN), run by PETA supporter Nigel Otter, who is a board member of the PETA-supported Animal Rahat organisation. Sadly, by the time IPAN arrived, the mother monkey had already died. Barely a week old, tiny Priya was taken to an animal sanctuary run by IPAN. Still very shy and timid, bright-eyed Priya is recovering from her trauma and growing up strong and healthy under the care of her sanctuary caregivers.
The last date for submitting entries is 16 January 2012. The winners will be chosen by 19 January 2012 and notified via e-mail. By commenting below, you're agreeing to our privacy policy and terms and conditions. No purchase necessary. Void where prohibited by law.