Victory! Government Stops the Use of Bulls to Transport Kerosene in Mumbai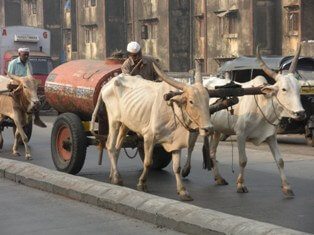 PETA India have just received a copy of the instructions sent to ration shops and oil companies by the Controller of Rationing at the Food and Civil Supplies Department, ending the use of bullock carts to transport kerosene in the city. The instructions were sent along with a copy of the 2006 notification by the Government of Maharashtra that bans the keeping and movement of cattle in Mumbai. These instructions follow a five-year campaign by PETA India, and they mean that Indian Oil Corporation Ltd, Hindustan Petroleum Corporation Ltd and Bharat Petroleum Corporation Ltd have stopped using bullock carts to transport kerosene as of 1 February 2012.
PETA India's campaign to stop the use of bulls to haul kerosene in Mumbai has included numerous meetings with government officials, demonstrations outside Indian Oil petrol pumps, a disruption of the Oil and Gas Review Summit and International Exhibition by a PETA India supporter and a petition signed by Akshaye Khanna, Rahul Khanna, Raveena Tandon, Eesha Koppikar, Arjun Rampal and other celebrities. In November 2010, in order to kick-start the ban on bullock-drawn kerosene carts, PETA India, through Piaggio, donated an auto-rickshaw to a selected bullock owner in exchange for his bull, who was sent to Animal Rahat's sanctuary. A PETA India case regarding this issue is also being argued in the High Court of Bombay.
"Forcing bullocks, who are often sick and injured, to pull heavy oil carts on busy, hot and fume-filled Mumbai streets is an act of extreme abuse, and we are thrilled to see that the government has now taken steps to put this archaic and illegal practice to an end", says PETA India Director of Veterinary Affairs Dr Manilal Valliyate. "PETA applauds the government's action because it will bring much-awaited relief to hundreds of bullocks."
More than 500 bullocks were being used to transport kerosene from oil ports in Sewri and Wadala to rationing shops in the city. These animals endured tremendous suffering – many bullocks were underweight and ill, kept in filthy conditions and forced to work beyond their physical capabilities, pulling heavy loads in all weather extremes. Many suffered from yoke gall (acute and chronic inflammation caused by pressure from a yoke or harness), maggot-infested wounds, infected sores, acute or chronic arthritis or intestinal problems, such as diarrhoea and impaction. The animals were rarely, if ever, given veterinary treatment. And because the carts are a traffic hazard, the public was also put at risk.
In a meeting held on 4 May 2011 by the Food and Civil Supplies Department that was attended by bullock owners associations and PETA India, it was decided that bullock owners would be given until 22 October 2011 to discontinue using bullock carts and switch over to appropriate motorised transport. The bullock owners were previously given until March 2009 to discontinue their use of bullock carts, so they have had three years to make the transition.
PETA India is working hard every day to win victories like this to help animals. Support the movement for animal rights by joining our Activist Network and by making a donation. Thank you!