Top Vets Support Ban on Horse Carriages
Representing PETA India and Animal Rahat, a panel of India's most renowned equine veterinarians – who together have more than 32 years of experience addressing India's most challenging equine welfare issues – came together with Mumbai for Horses and People for Animals to make the case that the only way to stop the abuse and suffering of horses used to pull carriages through the streets of Mumbai and avoid the traffic hazards that they cause is to enact an all-out city-wide ban on Victorias. The experts also explained that passengers, drivers and pedestrians are injured and even killed when horse-drawn carriages are involved in accidents.
Three equine experts – Dr Manilal Valliyate, director of veterinary affairs for PETA India and member of the Animal Welfare Board of India; Dr Avinash Kumar, a leading equine veterinarian who has worked for The Brooke, an equine welfare charity; and Dr Chetan Yadav, an equine veterinarian and leading animal welfare specialist working for Animal Rahat – presented graphic, never-before-seen photos and video footage proving that keeping horse-drawn carriages on the roads would only ensure that the cycle of abuse continues.
Dr Valliyate explained that once horses lose function in a joint, as happens quickly when they're made to walk on pavement or haul heavy loads, more stress will be placed on their other joints, tendons and ligaments. No veterinary medicine or surgery can cure this condition, and it cannot be reversed. The equine veterinarians also pointed out that any move to issue licenses to the city's currently filthy, decrepit and illegal stables could subject the horses to various infectious diseases – such as glanders, strangles, tetanus and equine influenza – and cause many animals to die.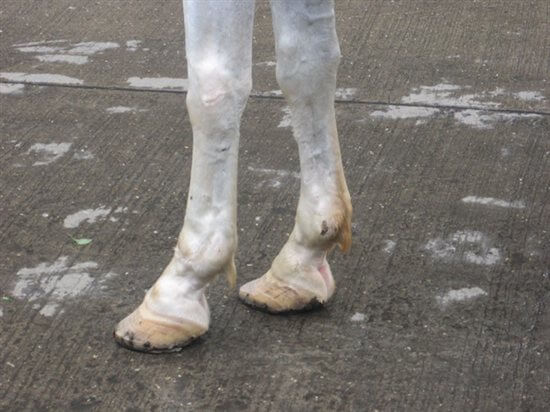 Horse used to haul a carriage despite painfully swollen joints.
Furthermore, despite an order from the Bombay High Court that nongovernmental organisations be permitted to inspect horses for signs of poor health or compromised welfare and report the matter to an executive health officer and despite holding written authorisation from the Animal Welfare Board of India – a statutory body under the Ministry of Environment and Forests – to conduct such an inspection, a team of equine veterinarians from PETA and Animal Rahat was harassed and prevented from conducting inspections of the horses used to haul carriages in Mumbai by the carriage owners and drivers and their lawyer.