Three Injured Horses Seized by Mumbai Police
Mumbai police – with the support of an expert team authorised by the statutory body the Animal Welfare Board of India (AWBI) consisting of veterinarians from People for the Ethical Treatment of Animals (PETA) India, Animal Rahat, and the People for Animals Foundation (PFAF) – seized three horses with severe untreated injuries and very poor body conditions (including protruding rib cages and pelvic bones) who were being used to haul carriages in the city.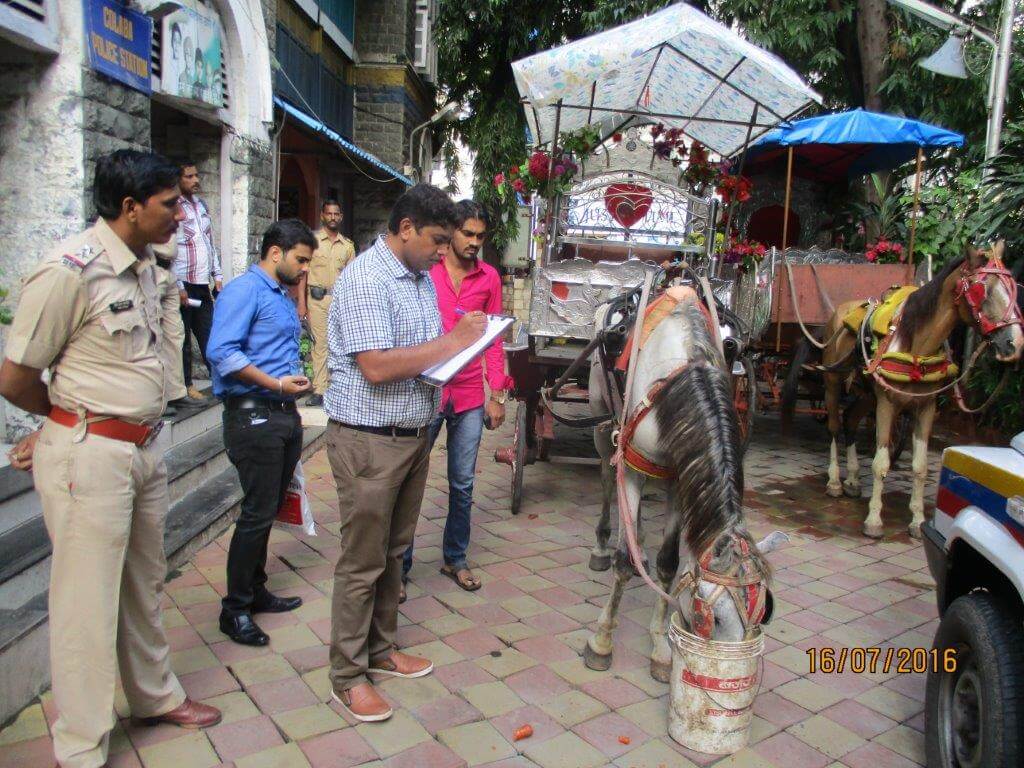 The horses were also found to be suffering from anaemia, swollen joints and tendons, and foot diseases and were forced to give carriage rides near the Gateway of India while hungry and dehydrated and with banned spiked bits forcefully put in their mouths. One of the horse-carriage drivers ran away from the scene with the seized horse, and the police had to conduct an extensive search to re-seize the animal.
The police have registered three non-cognisable offence complaints against the horse-carriage owners and drivers, under The Prevention of Cruelty to Animals (PCA) Act, 1960. The seized horses were sent to the Bombay Society for the Prevention of Cruelty to Animals hospital in Parel for necessary veterinary treatment and care as well as much-needed rest.
The AWBI and animal-protection organisations were acting on the 8 June 2015 directive of the High Court of Bombay, which stated the following:
As far as the use of ponies/horses for joyrides is concerned, in case of violation of [the] PCA Act, all the Authorities concerned will have to take appropriate action in accordance with law. The Petitioners and the intervenors are free to point out the instances of violations to the Concerned Authorities who shall be under an obligation to take action in accordance with law.
In April, the Supreme Court directed Victoria carriage owners to withdraw their special leave petition, which sought permission to continue to operate horse carriages in Mumbai, and informed them they need to approach the High Court of Bombay by way of a review petition. The Victoria owners' attempt follows the 8 June 2015 Bombay court ruling that horse carriages must be phased out of Mumbai within a year. Although the Supreme Court allowed the carriage owners to ply their trade for a period of six more months or until the pendency of a review petition, it called for the Government of Maharashtra to develop its scheme for the rehabilitation of the carriage owners and drivers, as per the High Court of Bombay order. However, until now, no such review petition seems to have been filed, and so far, the state government has not proposed any scheme to rehabilitate the horses or the people involved in the trade. PETA and PFAF have met various state government officials, urging immediate action and to inform them that in the absence of such action, horses will continue to suffer.
You can help horses. Urge the Maharashtra government to rid Mumbai of cruel Victorias: