Olympian Sushil Kumar Says, 'Go Vegetarian'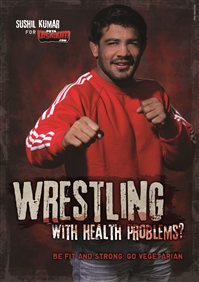 On the mat, Sushil Kumar is one of the most feared wrestlers in the entire world. But to the millions of animals who are raised and killed for food, he's a soft touch. That's because the 2008 Olympic bronze medallist, who needs every ounce of energy he can get, gets his energy from a healthy, humane vegetarian diet. To drive the point home, Kumar appears in a new pro-vegetarian PETA India ad alongside a caption that reads, "Wrestling With Health Problems? Be Fit and Strong: Go Vegetarian".
Why are Kumar and PETA urging people to pin meat to the mat? Going vegetarian is the best thing that you can do to protect animals, the planet and your health. Meat, eggs and dairy products are loaded with artery-clogging cholesterol and saturated fat and have been conclusively linked to heart disease, strokes, diabetes, obesity and cancer. Packed with complex carbohydrates and low in fat, a vegetarian diet provides all the protein and other nutrients that athletes need to stay strong, fit, focused and lightning fast.
Kumar is living proof that a healthy vegetarian diet is a winning formula for athletes and non-athletes alike. "Look at me, I defeated non-vegetarians from America and Kazakhstan in the Olympics. So, you can see that vegetarians have a lot of strength", says the victorious vegetarian.
Whether you're into sports or just want to stay fit and full of energy, going vegetarian is a surefire way to stay at the top of your game. So what are you waiting for? Get ready to run circles around your meat-eating competitors: on your mark, get set, go vegetarian!