Sanjana Jon ?s Desi Dogs
Top fashion designer Sanjana Jon loves desi dogs – she has four of them! The leather-free designer recently hosted a star-studded event in New Delhi to support PETA and Friendicoes SECA and to encourage anyone with the time, love and resources to adopt a homeless Indian (desi) dog rather than buying an animal from a pet shop. Actor Nasir Abdullah, Ramola Bachchan, politician Alka Lamba and fitness expert Vesna P Jacob were just a few of the celebrities who came out to support the "Paws for a Cause" event, walking, playing and posing for photographs with homeless dogs from Friendicoes' animal shelter.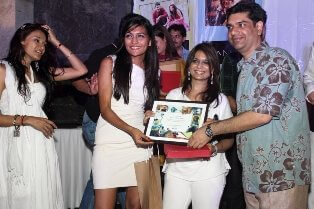 L-R (Sanjana Jon, Benazir Suraiya, Arpita Mona Bansal, Vipul Gupta)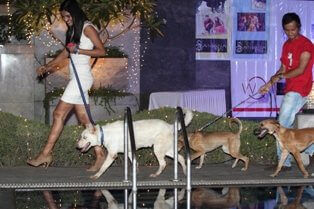 Dogs from Friendicoes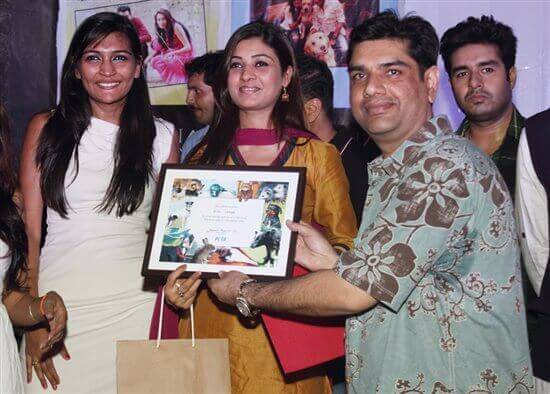 Alka Lamba & Executive Director of The Metropolitan Hotel & Spa, Vipul Gupta
Sanjana explained that the loveable, personable dogs at Paws for a Cause "are just a fraction of the dogs in India who need the right person to come along and make them part of the family. If you're ready to make a lifelong commitment, I hope you will consider visiting your local animal shelter – you might just find your new best friend".
You can make a difference by opening your home and your heart to a homeless dog or cat). Every time someone buys a dog from a breeder or a pet shop, a dog on the streets or in an animal shelter loses his or her chance at finding a good home. And please help stop animal homelessness at its source by always sterilising your animal companions.
Photo Courtesy: Monica Dawar