PETA Calls for a Dairy-Free Janmashtami
PETA has sent a letter to the heads of ISKON temples throughout India in advance of Janmashtami celebrations urging them to request Krishna devotees to use plant-based, vegan items instead of commercial dairy products this Janmashtami.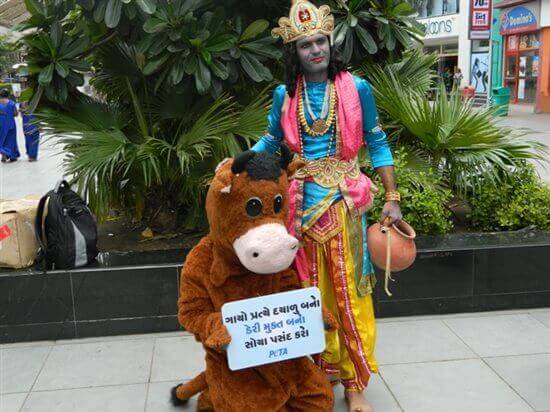 In her letters, PETA nutritionist and campaign coordinator Bhuvaneshwari Gupta explained that gone are the days when cows were raised gently on people's land. She described how cows nowadays are kept chained to cramped, filthy stalls; artificially and crudely impregnated using filthy instruments that cause the animals pain; and commonly injected with Oxytocin, a banned drug, resulting in severe pain for the cows, similar to labour pains. She further explains that mother cows and buffaloes have their calves torn away from them shortly after birth and that male calves are killed. The mother cows and buffaloes are killed eventually, too.
Wrote Gupta, "We know that Krishna devotees would never knowingly choose to support cruelty to cows and would be shocked and saddened to learn how cows on today's dairy farms are abused. Your words carry enormous weight in your community. We implore you to use your influence so as to spare millions of living beings pain and suffering by urging devotees and other festival organisers to celebrate Janmashtami using only cruelty-free dairy alternatives such as soya milk, coconut milk or other such items".
Watch PETA's India-wide dairy farm investigation here.
You can help! Take the Pledge to Go Vegan today.