Olympic Wrestler Sushil Kumar Wants You to Be Fit and Strong
Sushil Kumar may be the most feared wrestler in the world, but he's really a softie at heart. The macho man has already conquered the ring with a bronze medal at the 2008 Beijing Olympics, but now he's set to conquer your hearts with his new pro vegetarian ad. .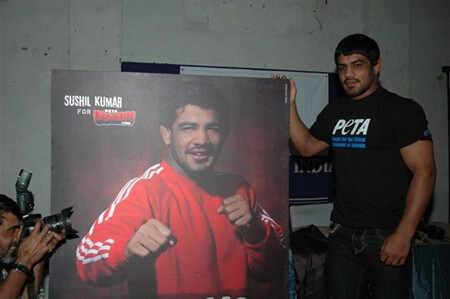 The man who defeated wrestlers from all over the world owes his success to a purely vegetarian diet, dashing all theories proposed by heartless meat eaters who claim you need protein from meat to have strong and healthy body.
Sushil is living proof that a healthy vegetarian diet is a winning formula for athletes and non-athletes alike. "Look at me: I defeated non-vegetarians from America and Kazakhstan in the Olympics, so you can see that vegetarians have a lot of strength", says the victorious vegetarian.
You can too follow Sushil's mantra for a healthy lifestyle by pledging to go veg today!