Offer Vegan Modaks to Ganpati Bappa!
Make this Ganesh Chaturthi cruelty-free by offering vegan modaks to Ganpati Bappa. Check out this tasty recipe!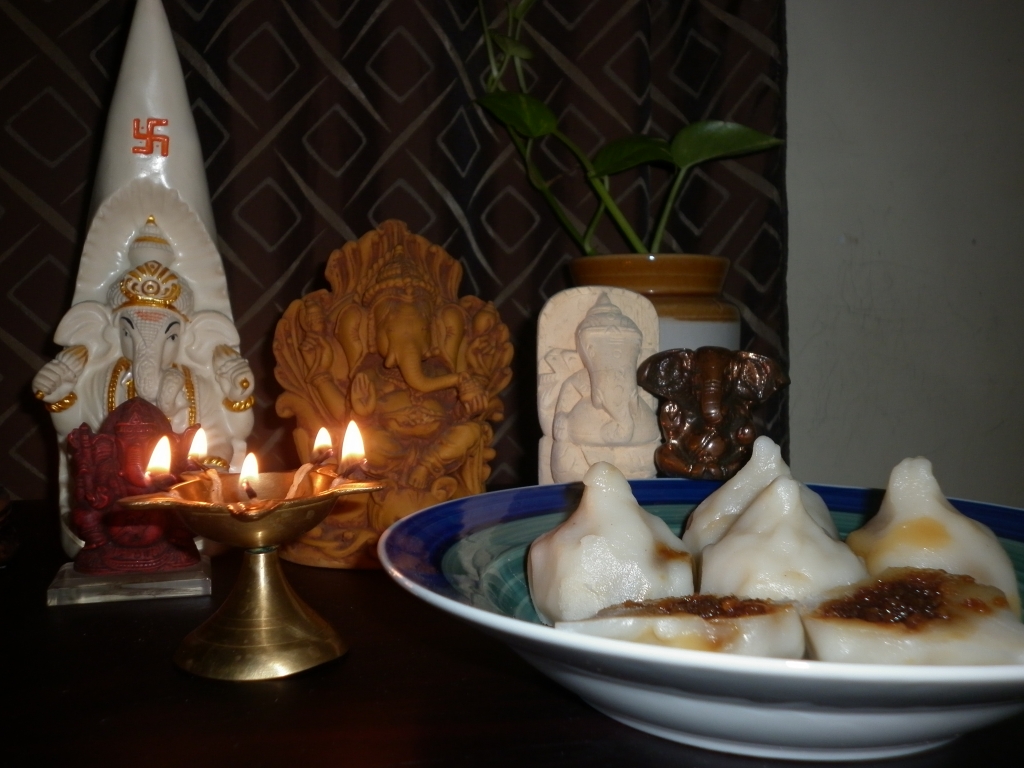 The following recipe is adapted from VegRecipesOfIndia.com.
Vegan Modaks
2 cups grated jaggery
2 1/2 cups grated fresh coconut
1 tsp cardamom powder
2 1/2 cups water
1 tsp oil
Pinch salt
1 1/2 cups rice flour
Heat the jaggery and coconut in a thick-bottomed kadai. Stir until the jaggery melts and the mixture becomes a little dry. Avoid overcooking or the mixture will become very sticky and hard.
Add the cardamom powder and mix well. Remove from the heat and set aside.
In a separate pan, add the water, oil and salt and bring to a boil.
Remove one cup of the boiling water and set aside. (This can be used later if the mixture becomes too dry.)
Remove the pan from the heat and add the rice flour. Mix well with a wooden spoon or spatula, adding flour or water as needed to attain a smooth, lump-free, soft dough.
Knead the dough with your fingers, adding a little oil, if needed.
Roll a small portion of the dough into a smooth ball between your palms. Flatten the ball and place a small portion of the jaggery-coconut mixture at the centre. Bring together all the edges and close the top. Remove any extra dough from the top and shape and taper with your fingers.
Repeat this process with the remaining dough.
Steam the modaks in a pressure cooker (without the whistle) for 10 to 15 minutes over a low to medium flame.
The modaks are ready to be offered to Lord Ganesha!
Makes 4 servings
Happy Ganesh Chaturthi!