Muslim Spiritual Leader Wins PETA Award
While everyone is busy preparing for Eid-e-Milad celebrations, Muslim spiritual leader Maulana Sayed Moinuddin Ashraf (commonly known as Moin Miya) is speaking out against using bullocks and other animals in processions. During Eid-e-Milad, which is celebrated globally as the birthday of the prophet Mohammed, processions take place in which many people participate in vehicles and play loud music, thereby causing animals distress and fear. Animals are also often beaten in such crowds in order to force them to move forward. For his stance, Moin Miya will receive a Hero to Animals Award from PETA.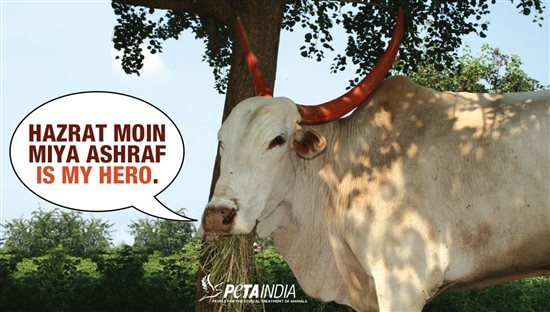 We have also written to tell him that in 2006, the government of Maharashtra issued a notification that bans the keeping and movement of cattle in Mumbai. "We commend Moin Miya's stance on not using animals for processions – a position that is also on the right side of the law", says PETA India CEO Poorva Joshipura. "Adherence to his advice would stop much unnecessary pain and suffering."
Other recipients of PETA's Hero to Animals Award include actor Imran Khan for stopping dog abuse on his film set, Zarine Khan for rescuing a cat from the streets, Cyrus Broacha for refusing to perform a stunt that involved riding a bull, Rani Mukherji for helping a dog in distress on her film set, Asin for saving a dog hit by a car, Sadaa Sayed for helping a puppy who just missed being hit by a car during a rainstorm and Dia Mirza's production company, Born Free Entertainment, for showing that homeless animals make wonderful additions to families.
You can help PETA's sister organisation, Animal Rahat, bring relief to thousands of overworked bullocks, mules, ponies and horses by supporting its work today.